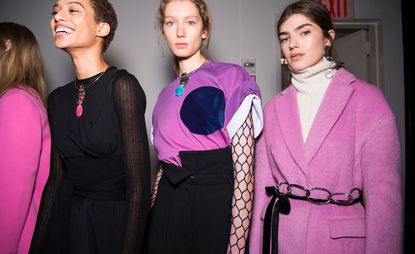 (Image credit: Jason Lloyd-Evans)
Mood board: Like many designers this season, Phillip Lim (opens in new tab) used the current state of affairs in the United States as a reason to design a collection that celebrated the idea of empowering women. Lim also looked at reference points like colour — royal blue, bold fuschia, tawny, soft pinks and basic black — as well as the new romantics.
Scene setting: Models walked on a bright red carpet, around translucent orange perspex squares, decorated with long black straps which hung from the ceiling. The set resembled an art installation that can be best described as something that would happen if a James Turrell work were illuminated with fluorescent jolts from Dan Flavin.
Best in show: A baggy, high-waisted and belted fuchsia trouser suit reinvented the idea of the power suit, making it bold, courageous and gutsy. A long, black puffer jacket with a block of Yves Klein blue, styled with a chain link belt was a refreshing departure from the oversized style that has recently dominated the catwalks.