Ed Ruscha features in the Band of Outsiders S/S 2012 polaroid campaign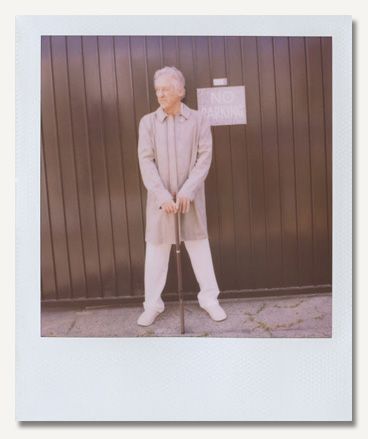 (Image credit: press)
Most fashion advertising looks like a lot of money is spent on it because a lot of money is spent on it. Armies are mobilised, budgets blown. We were charmed and intrigued then by a new campaign from LA-label Band of Outsiders. Pleasingly shot on Polaroid, the campaign features our kind of eye candy: the artist and friend of Wallpaper* Ed Ruscha for the ladies; and the luminous from 'Dawson's Creek'-to-My Week with Marilyn actress Michelle Williams for the gentlemen (allowing for other permutations of course).

Band of Outsiders was established in LA by Scott Sternberg, a former talent agent at Creative Artists Agency, in 2004. Since then the brand has picked up serious momentum and Sternberg a best menswear designer award from the CFDA. Sternberg launched Boy, a boyish ladieswear line, in 2007 and has since added the more girly Girl range. We caught up with Scott to get his take on the new campaign and how it feels to be less of an outsider.

Why shoot the campaign on Polaroids?

It's a very practical, relatively cheap way to shoot using film. We don't need a crew or lights, so we can work super fast. And the 'instant' thing comes in handy when trying to gain a subject's trust - we review everything together in real time and throw out any shots that are freaking them out.

Ed Ruscha is something of an idol in these parts. Why did you go with him for the men's campaign?

He is definitely one of my heroes as well. I've been trying to shoot him for at least two years. I would have made any collection work on Ed.

Can you tell us about why you chose Michelle Williams for the new womenswear collection?

We've kicked around the idea of doing another campaign together for a while now (Michelle worked on our Fall 2008 campaign as well). She's really come into her own, and it's such a crazy, exciting moment for her right now, so it felt like a great time to do it.

Given that you started B.O.O with very little in terms of fashion experience, are you surprised by how far you have come in the industry?

I was pretty sure the men's thing would work out, but I really had no clue I'd be making so many women's clothes and selling them in such great stores.

Given the increasing amount of attention you are getting, are you losing your outsiderness?

Not at all! I'm as nerdy and antisocial as ever.