Aspesi campaigns: A tour of the archives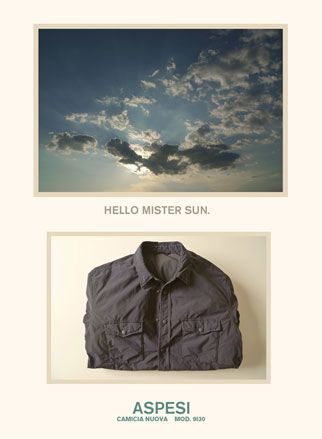 (Image credit: press)
As one of fashion's most anti-fashion players, Alberto Aspesi has always marched directly against the usual on-coming traffic. The tough-as-nails, often ornery owner of Italy's chicest sportswear company actively shuns fashion shows, unapologetically hates the press, blatantly ignores the fashion calendar, and has never bothered to open a PR department. It's no surprise then that his advertising campaigns don't look anything remotely like your average glossy, glamorous fashion spread. With Aspesi's first online retail venture just launched, we thought it time to take a look back through the archive.
'He's not really interested in people wearing clothes,' remarks Dirk Van Dooren, the Creative Director who has created the Aspesi advertising campaigns since 1991. The boss' only real brief is that the next campaign 'be different'. 'That gives you an amazing energy and opportunity,' he adds.
With no listless models or fake sets to contend with, Van Dooren, a former founding partner of Tomato in London, has been able to let his imagination run away with him. The campaigns have featured everything from fuzzy felt animals and Sergeant Pepper inspired collages, to funny faces (with the clothes being the noses) or blurred images with poetic thoughts. Throughout the years, Van Dooren was a lone multi-tasker, functioning as concept developer, photographer, art director and copywriter. 'When they were young, my kids would often help,' he says of some of the simple statements and childlike questions that often pop into the work.
After 20 years of working with Aspesi, the collaboration has become an effortless affair. 'Most of the decisions about what we'll do occur between dessert and coffee during lunch,' he explains. 'Alberto has a great deal of input. He's a very interesting character. Very creative.'
But it took a while to break the ice. 'I worked for seven years without ever meeting him,' Van Dooren recalls. Until the time Aspesi phoned him up in tears over a new campaign. 'From then on the relationship has been terribly personal,' he says. 'I love the guy.' In the fickle, jaded world of fashion, this is perhaps the most subversive statement of all.