AlphaTauri is focusing on precision and perfection in clothes
An offshoot of the Red Bull Formula One racing empire, AlphaTauri is a clothing label where world-leading technical innovation meets effortless everyday design. Here, a closer look at its S/S 2023 collection, which evokes sunshine and escape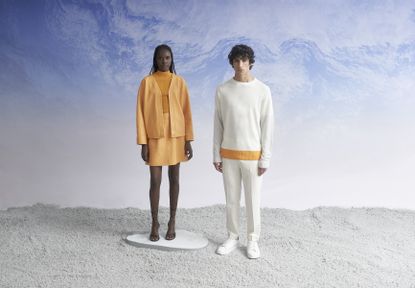 (Image credit: press)
In Formula One racing, the minutiae of engineering can mean the difference between finishing on the podium or back in the pack. AlphaTauri, one of two teams run by Austrian beverage company Red Bull – the other being Red Bull Racing, led by defending world champion Max Verstappen – channels this same fastidious approach to design into its clothing label of the same name.
Based in Salzburg, Austria – alongside Red Bull's own headquarters – AlphaTauri was founded on principles of 'textile innovations, purposeful design and premium materials to add value to both body and mind', as the brand describes. Such textile innovations are central to the brand's approach, with every fabric used in its collections created by AlphaTauri in-house, utilising its own mills. This might include the now-registered trademark 'Taurobran', a breathable waterproof membrane developed by the brand; other garments might be crafted from water-repellent wool, or fabrics that can adapt to their wearer's temperature. Natural fibres – leather, fine cashmere and Merino wool – are also sourced.
AlphaTauri S/S 2023
Silhouettes, meanwhile, span both performance-wear and casual attire; those who work at AlphaTauri note a desire to dress their consumer from morning until evening, with garments spanning seamless sporty sweaters and cardigans, packable parkas, and waterproof trousers, alongside dressed-up ruched dresses, carré scarves, and flared knit skirts (all garments are created with the same focus on fabric, comfort and innovation). Colours are vivid: shades of yellow, turquoise, purple, and olive green have all been utilised across recent collections.
Such was the case at the brand's most recent presentation, shown at a special space at the Pitti Uomo 102 trade fair in Florence earlier this year, introduced with a dinner in the lush grounds of private residence Serre Torrigiani held the day prior ('As one of the most relevant trade shows for men's fashion in Europe, which is speaking to an international audience, this is the perfect platform for AlphaTauri to kick off the new season,' the brand said). Colours it calls 'flamingo' 'mango' and 'flint beach', meet classic shades of navy in the comprehensive S/S 2023 collection, which drew inspiration from the idea of a faraway island.
'A light and carefree desire for escapism,' AlphaTauri tell Wallpaper* of the collection's beginnings, transporting the wearer to 'a private island… removed from the stresses and worries of everyday life [where] the blue skies envelop you and bathe you in sun.' In keeping with this escapist mood, a tropical print runs throughout the collection – drawing inspiration from ocean coral – while Taurobran is utilised to create ultra-lightweight outerwear, protecting from showers but breathable in the heat. Knitwear innovation is another focus: 3D-knit technology is utilised to create high-performing sweaters, knit jackets, and dresses. Elsewhere, easy riffs on tailoring are found throughout, including a particularly vivid mango trouser suit which will arrive in stores next February – promising an 'elevated sense of relaxation', as the brand describes.
AlphaTauri takes its name from the Alpha Tauri star – 'the brightest, most radiant and energy-rich star in the constellation of Taurus'. In the constellation, the star is directly in the bull's eye – 'aligning with the brand's focus on precision and perfection', the defining principles of the growing Austrian label.
INFORMATION
alphatauri.com
Jack Moss is the Fashion Features Editor at Wallpaper*. Having previously held roles at 10, 10 Men and AnOther magazines, he joined the team in 2022. His work has a particular focus on the moments where fashion and style intersect with other creative disciplines – among them art and design – as well as championing a new generation of international talent and profiling the industry's leading figures and brands.