Lindberg eyewear can be as unique as its wearer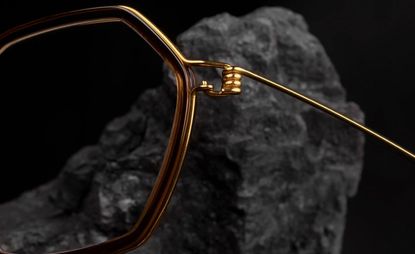 (Image credit: courtesy of Lindberg)
In partnership with Lindberg
For the people at Lindberg, inclusivity is a founding principle, not a buzzword. The Danish brand creates eyewear that can be personalised and adjusted to suit everyone.
Lindberg conceives, designs and engineers its eyewear on the premise that most people – of all face shapes – will require spectacles during the course of their lives.
The Lindberg concept is simple and direct – why choose a one-size-fits-all product when tailor-made, handcrafted eyewear, made in ultra-lightweight titanium is available?
The company's modular system currently offers 105 billion different combinations of colour selection, lens shape and temple design from which to build a pair of Lindberg glasses, each choice unique to the needs and preferences of the individual customer. It's the most extensive modular system in the world. Every person on earth could receive 13 pairs of eyewear each and none would be identical.
Other choices for the final personalised frame – temple inclination, width of clips, width of nose bridge, the length and shape of the nose pad arms – are predicated on the wearer's facial features. A low temple inclination, for instance, is specifically suited for those with a lower nasal bone structure, and prevents the front of the eyewear from sitting at an awkward angle. Each temple is a unique engineering feat without any screws, with the additional benefit that the eyewear does not have to be refitted over time.
Lindberg offers extra-wide temples for wide faces, which follow the same flawless design as the standard temples. The brand's Rim models, meanwhile, such as 'Esben' and 'Oscar', are universally flattering.
Within the extensive and almost limitless collection, an exaggeratedly small nose bridge – as seen on the 6605 model, for instance – becomes a pivotal feature and a bold design statement in itself.
Ensuring a perfect fit for any person involves the adjustment of Lindberg's engineered nose pad arms. In order to lift the front of the frame up and out from a low nasal bone structure, for example, specially constructed nose pad arms have been developed. This bespoke measure improves stability and establishes the perfect angle of the nose pad, which can also be adjusted in shape and size for additional comfort.
Precision-designed, personally engineered, and expertly fine-tuned, Lindberg eyewear offers an individual solution for every customer, with in-store specialists on hand to guide you through the choices.
Locate your nearest store here: lindberg.com
Receive our daily digest of inspiration, escapism and design stories from around the world direct to your inbox