Explore 40 years of sartorial history at WP Bologna archive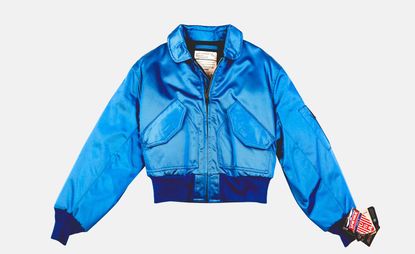 (Image credit: courtesty of WP)
In partnership with WP
The Bologna archive of WP Lavori in Corso – a retailer, distributor and quality clothing brand licensee – is a vintage sartorialist's dream and, as the company marks its 40th anniversary, it is being opened to the public.
Collected and curated by WP president Cristina Calori during four decades as part of a cultural operation to narrate a meaningful, material journey and to inspire future generations, the archive of around 80,000 pieces is the result of endless and meticulous research trips to international trade fairs, charity shops, flea markets, collectors and vintage shops all over the world. The collection also integrates the archives of brands that have been acquired by WP during its history.
Since establishing WP in 1982, Calori and her father and co-founder Guiseppe have made it their mission to explore the world through authentic, pioneering and storied clothing manufacturers that share their high standards of quality. The business has grown to become a point of reference in the fashion, accessories and lifestyle sector.
WP currently imports and distributes a wide range of brands, including Vans, Barbour, Woolrich, Filson, Baracuta, Paraboot, Parachute, BD Baggies, Avon Celli, Blundstone, and Spiewak.
In 2011, Baracuta's archive of more than 500 garments was incorporated into the WP collection, while in 2014, part of Gianfranco Ferrè's corporate archive was acquired, including the historical collections of men's and women's garments penned by the designer himself, as well as inspirational and research garments to support them. US brands Filson and Spiewak, were added to the brand portfolio last winter.
To celebrate its 40th anniversary, WP has launched its WP Stories project, illustrated through the prism of the vast and varied archive. The project includes a series of short films that tell the story of WP and its brands, with interviews and insights from creators, managers and designers. The films are being made available through WP's regular channels, social media, newsletters and in store experiences, from October 2022.
To mark the opening of the WP archive to the public, a selection of vintage archival garments and a capsule of T-shirts depicting graphics that have been leading players in WP's creative journey are available to buy in a new collection, available online and in WP stores.
Discover more at wpstories.wpstore.it
Receive our daily digest of inspiration, escapism and design stories from around the world direct to your inbox