Soft opening: Tom Dixon launches Barneys pop-up and exclusive textile collection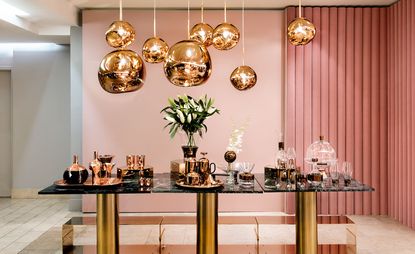 (Image credit: Tom Dixon)
Interestingly enough, Tom Dixon has never been in Barneys – no, no not to shop, but sold in the shop. The British studio, however, is finally having its big day out on the ninth floor of the OG Barneys on Madison Avenue, a pop-up open until 29 May with a curated selection that mimics an exhibition.

Nodding to the pop-up's title 'Yesterday, Today and Tomorrow', the wares are laid out in a chronological path, beginning with Dixon's more signature furniture pieces that have become iconic to the brand: the instantly recognisable 'S' chair; the 'Bird' chaise, in a grey flannel that is far more comfortable than it looks; and the 'Pylon' chair, a metal wire sculptural high-back with its spindly legs and outstretched ears that's still the lightest chair ever to be produced. There's even a furry chair, zealously hirsute of tendrils from Icelandic sheep.

But according to Dixon, he wants to be everywhere in the house. And this encompassing capsule offers an extension into all rooms and functions of the home. Of course, there are his 'Melt' lamps, including the 2015 tripod version laden with those bulbous glass explosions (taken form as shades), and the Tom Dixon cocktail sets, primed right for the American market, including new barware in rosy copper and sumptuously smoked copper.

The Barneys pop-up also includes an entirely exclusive foray for the studio – textiles – which the man himself has joked is a sign of 'getting soft'. And in this case, quite literally. These pillows are in plush fabrics, in colours of blush, cobalt, gold and grey. Expect new textile rollouts in the coming months, especially as the studio's new store opens in Hong Kong at the end of May. Perhaps Dixon is signalling a jump into a fashion collaboration (you heard it here first).

The pop-up also includes a whole slew of unexpected finds – for one, the oversized hand-hammered brass trays from India, where each piece is unique. Dixon now too makes candles, a product suprising turn for his studio, but that they sell out regularly is still more of a revelation. His signature conceptual scents, too, will waft through the air in Publicis Drugstore, his Design Research Studio's latest restaurant on the Champs-Elysées in Paris, opening on 23 May.
INFORMATION
The pop-up store is open until 29 May. For more information, visit the Barneys (opens in new tab) website and the Tom Dixon website (opens in new tab)
ADDRESS
660 Madison Avenue
New York, NY 10065