Artist Sol Calero gives a Norwegian canteen a colourful, tongue-in-cheek makeover
Created for the Bergen Assembly, La Cantina de la Touriste, a makeover of Bergen canteen Kafé Mat & Prat, embodies Sol Calero's socially focused practice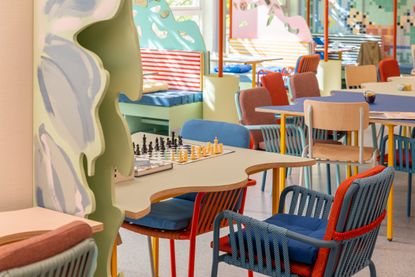 (Image credit: Bjørn Mortensen)
On the occasion of this year's Bergen Assembly, an art triennial in the quaint city known as the gateway to Norway's fjords, artist Sol Calero has unveiled La Cantina de la Touriste, a restaurant that embodies her socially aware artistic practice and conceptual approach to interiors. The Venezuela-born, Berlin-based artist was invited by the triennial's director, Ingrid Haug Erstad, and its curator, artist Saâdane Afif, to develop a permanent intervention inside an eatery called Kafé Mat & Prat. The existing canteen was already a local favorite, offering traditional dishes from the home cuisines of its employees while also functioning as a language and qualification centre for immigrants seeking work in the hospitality sector. But it was in need of a redesign, and Calero's vision made her a natural choice.
In her practice, the artist creates site-specific interventions that are at once vibrant tableaux and spaces for social gathering and interaction. Her body of work includes recreations of spaces such as a beauty parlour, a school, a currency-exchange office, always rendered in bright colors and filled with playfully placed objects (and plastic plants.) On closer examination, these details reveal longing for a faraway home one has left behind. 'In terms of identity, I'm interested in how an immigrant would represent their own space in a new city,' she said at the opening. 'When I first saw it, this canteen was already filled with love. It already connected to things I've been trying to do for years.'
La Cantina de la Touriste is an explosion of styles and colors, mixing pastels with bright accents in red and blue. A tiled mural depicts a pixelated image of palm trees and succulents in a sunny landscape. There are sculptural and hand-painted room dividers reminiscent of beach bungalows. 'I wanted to create an art project that is about interior design,' Calero said.
But this seemingly kitsch-laden mishmash is tightly held together by Calero's core concept – and it works. It reflects her interest in design objects that evince projections and generalisations related to othering, but also to self-exoticising, as found in places geared towards tourists.
Located inside a home for the elderly, the canteen attracts people of all ages and budgets. Its appeal lies in the sense of community that has formed around it, and yes, also in the unexpected dining experience to be had inside a care institution. For the duration of the Bergen Assembly, the canteen will host guest chefs who create weekly-changing three-course menus. The citizens of Bergen, Calero added, can feel like tourists in their own city.
INFORMATION
Bergen Assembly 2022 runs until 6 November 2022
bergenassembly.no (opens in new tab)