Michael Anastassiades returns to Cypriot roots for solo retrospective
The London-based designer curates his own show at at NiMAC, surveying 12 years of his prolific career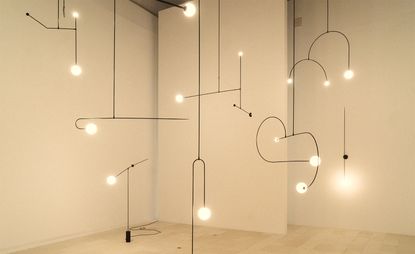 (Image credit: Osma Harvilahti)
There is no doubt that designer Michael Anastassiades has influenced contemporary design on a major scale. In 2007, he founded his own brand Michael Anastassiades Ltd in London, focusing on lighting design. His minimalist yet decorative pieces became very popular, turning him into a contemporary powerhouse on the global design scene.
Anastassiades trained as a civil engineer at London's Imperial College of Science Technology and Medicine and then attended the Royal College of Art to study a masters degree in Industrial Design. His use of precious materials and elementary geometry led him to create timeless designs. His work is minimalist, but still always distinctively Anastassiades. 'I have practised design since 1994, but I decided to showcase work from the last 12 years, when I have focused mainly on lighting,' he says about his show 'Things That Go Together' that opens at NiMAC in Nicosia, Cyprus.

The show surveys not only lighting, but also furniture, accessories and objects. 'It is very important for me that the exhibition is in Nicosia and that I could curate it in my own way,' explains Anastassiades, who was born in Cyprus in 1967.
Not long before the show started, Anastassiades abandoned all of his previous exhibition ideas and decided to place all of the objects on the plain marble floor. The natural scenography features no plinths or vitrines – instead the objects speak for themselves and are shown in their purest form. 'I like the idea of presenting objects that almost look like they were just [taken] out of [their] boxes and left there,' he says.
After Anastassiades became a household name for his refined handmade lighting, his career catapulted when he started to collaborate with Italian lighting company Flos, which is the main partner of the show. His famous Flos-produced lighting series 'String' and 'Arrangements' are exhibited in individual rooms and custom-designed configurations here. Other projects for leading global brands B&B Italia, Herman Miller, Cassina, Bang & Olufsen, Puiforcat, Svenskt Tenn, Carl Auböck/Sigmar, Coedition and SCP are also on display.
Anastassiades also reveals his lifelong obsession of stone collecting, displaying an extensive collection on a long table, 'I have collected stones since my childhood. I was always looking for perfect shapes in nature. Observing nature is very important for my work.'
This is the first show of its kind at NiMAC, dedicated to one designer. The exhibition is democratic, with no hierarchy or special highlights. All objects are presented on the same level, whether industrially produced or handmade.
'I like the fact that the exhibition concept is very straightforward,' says Anastassiades, 'Each visitor can also choose any direction or path throughout the exposition. So it offers an ever-changing perspective.' And one as illuminating as it is enlightening.
INFORMATION
'Things That Go Together – A Survey Exhibition by Michael Anastassiades' is on view until 20 July 2019. For more information, visit the NiMAC website (opens in new tab) and the Michael Anastassiades website (opens in new tab)
ADDRESS
Παλιάς Ηλεκτρικής
Nicosia
Cyprus
VIEW GOOGLE MAPS (opens in new tab)