Californian dream: Kelly Wearstler opens a soulful shop at Harrods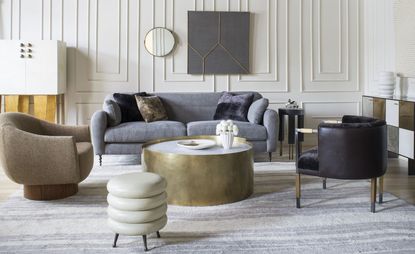 (Image credit: press)
There isn't much out there that interior designer Kelly Wearstler hasn't dipped into. In the midst of her opulent hotel transformations and residential redesigns in a soulful American style, she also brings with her a plethora of products at her eponymous design brand store. The Los Angeles-based creative is now hopping the pond to set up shop for the first time in the UK, and has chosen grand retailer Harrods for her inaugural British take-over.

Wearstler has bought the spirit of LA to the decadent surrounds of the department store (hers is the first Californian homeware brand to be stocked there). Chosen from the 65 pieces of her permanent collection, the special showcase of products bought an immediate calm via a cool, creamy set up. 'It is like little sculpture – there is great scale change and a neutral palette here, you can have it both minimalist and maximalist,' Wearstler tells Wallpaper*.

An ambassador for American design, Wearstler also invited us into her manufacturing world. 'Los Angeles is one of the manufacturing capitals, it is incredible right now,' she explains. The brand makes most of its embellished sculpted home accessories right in the Californian city, cast glass in Northern California and upholstery on the East Coast.

All the pieces are imbued with personality. From the brushed copper through to the walnut that coats the inside of the furniture pieces, a particular ardour resides in the wares. Together with the patterns she explores – the bold stripes of her 'Lineage' collection, the subtle leopard print in the ottoman, or the engraved woodwork on the natural oak 'Trousdale' dining table to name a few – all of the pieces are afforded a sense of familiarity through the finishing touches.

'I love things that have repetition and also Mother Nature,' she continues. Resonating not only in the materials and patterns, but also in the whimsical foot or lip motifs and animalistic legs she is known for, the Kelly touch glows throughout the space.

The Harrods launch coincides with the release of a new hand painted collection for The Rug Company. Exclusively available at Harrods, two new fluid designs 'Wake' and 'Staccato' stick within the minimalist palette.

Asked if there is any material she has not worked with before, she tells us that she is feeling concrete right now, hopefully working on some products for future release. Watch this space for the Wearstler way with stone.
INFORMATION
For more information, visit Harrods' website (opens in new tab)