Spheres of influence: a new base in Berlin gives design firm Bocci a chance to shine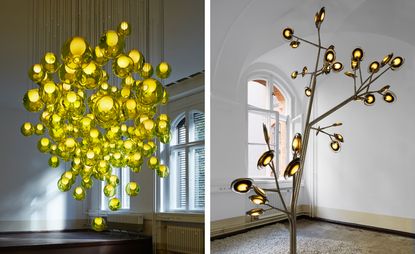 (Image credit: press)
Design and manufacturing company Bocci has always done things a little differently. Perhaps because it sees itself as a 'bubble on the edge of the world', according to its creative director Omer Arbel (the edge in this instance being Vancouver, Canada), or perhaps it's because it started out with only a modest CAN$100,000 in seed money, but the company has always opted to grow organically and slowly instead of quickly and flamboyantly. It has waited for pieces to become best-sellers before investing in more equipment, spent one year 'off' developing pieces and then the next year 'on' showing them, eschewed trends or the need to enlist big-name or star designers. Ten years on, Arbel still signs all the pieces and has total creative freedom. As he puts it: 'Our work is an analogue set of experiments that usually fail but sometimes succeed.' This, of course, is only a part of the story, and belies the sophistication that goes into the manufacturing and component design. But it's indicative of the almost primal way each project begins.

Founded by Arbel and his business partner Randal Bishop in 2005, Bocci now has over 40 staff, is becoming increasingly skilled at manufacturing and is growing fast. But this is by far the least important reason Arbel, Bishop and their team have opened a new venue in Berlin.

The space in question, a five-storey, late 19th century former courthouse in the former west Berlin neighbourhood of Charlottenburg, will be a new European HQ and production base, but, above all, a 'living archive' where Arbel and his team can show the tactile and sculptural lights and installations the company has become so famous for, as well as far more exploratory projects, material experiments and prototypes from metalwork to buildings.

'We make at least ten experimental pieces a year that no-one has ever seen,' says Arbel. The Berlin space offers Bocci some 40 rooms of different sizes, endless formal and empty corridors, hallways, foyers, staircases and nooks and crannies in which to install, drape, hang, twist and bring these experiments to life. It also has that all-important 28m-high central stairwell for killer large-scale pieces, such as the dramatic custom-made chandelier of 280 individual '28' lamps that cascaded down into the V&A museum's grand entrance throughout the 2013 London Design Festival.

That V&A installation changed the trajectory of the company, believes Arbel. 'Up until then we mostly made products of a residential scale that were sold in stores. At that point we understood that the challenge of making larger, more exploratory work was not making or even selling it, it was showing it.'

For the Berlin opening Arbel has hung a completely new piece, '44', in the main stairwell. Elsewhere, the building – whose brown magnolia walls have been painted white to just above the floor in a successful bid to create a tension or conversation between the existing building and the world of Bocci – has been filled with Bocci pieces both known and not previously seen, commercially successful and not.

One unseen project is a model of a house in Vancouver that Arbel is working on (he is also a trained architect), where he proposes to use concrete in a new and non-rectilinear way by 'pouring it into a very strong geo-textile so that the slump or the weight creates the form' and the structure is naturally thickest where it needs more strength. This project, like all Bocci/Arbel output, has been numbered (it is '62') in a highly personal cataloguing method that Arbel says encourages introspection and the 'creation of the right kind of new work'.

Another new piece on show in Berlin is the '71' series, an experiment with a metal bolt that is displayed here in the form of weird and wonderful garlands. 'These begin their life as hexagonal machine bolts,' explains Arbel, 'that we wrap in copper wire and dip hundreds of thousands of times in a chemical solution with nickel in it, through which we pass a tremendous amount of electricity.' A more conventional version of this process is electroplating, but in that case the voltage would be very low. Here, the copper coil gives each bolt an electromagnetic field. The end result is an intriguing and endlessly tactile metal object with hundreds of accretions that look like coral or seaweed gone mad. 'It's a completely open-ended exploration,' says Arbel. 'It has no practical application whatsoever. It's just a cool, interesting thing that we discovered.'

In the next year the Berlin building will also acquire a 220 sq m glass shop (with a glass-making team) and a porcelain workshop about half that size. (At the same time the Vancouver HQ is consolidating its two glass shops, creating one store of about 500 sq m.) Behind the courthouse is a former women's prison that is part of the same complex and is currently being converted by its architect owners (Berlin-based Grüntuch Ernst) into a boutique hotel complete with swimming pool.

The idea is that Bocci's glass and ceramic workshops will spill out onto the courtyard in warmer months, and, along with a reception and cafe in the courthouse run by Arbel's landlords, provide a vibrant entrance to the hotel beyond. 'The experience of seeing glass produced will be very much part of the experience of being in that courtyard,' says Arbel.

The move to Berlin is also exciting for Arbel because it gives him the freedom to experiment without Bocci being pigeonholed by the media and the design industry. The story of the '28' light, and its beguilingly space-age interior landscape of satellites and craters, highlights what Arbel feels are the constraints of unnecessary typecasting. Derived, like all Bocci pieces, from a process or a way of making – in this case by alternating heat and cold and direction of air flow at  rapid intervals, the '28' was shown for the first time at Spazio Rossana Orlandi in Milan in 2010. It attracted interest from a high-end UK art gallery, which was interested in representing Arbel. It soon backed off, however, when it realised Bocci was a design company. 'Then "28" became a product for two or three years,' says Arbel, 'and when the V&A museum commissioned a huge piece, all of a sudden it was a light installation. But it still wasn't art.'

Arbel pauses. 'The piece is made by blowing a vacuum. Who cares if it's design or art?' he asks. He has a point and in this context, Berlin, a place where he is an outsider and where there is still a great deal of informality and spontaneity in the creative scene (compared to London, where the company had initially sought a space and where the cultural life 'is amazing but so intense, so curated, so capitalised'), is also an evident quest to step outside these constraints.

Eventually, Arbel hopes to spend half his time in Berlin and half his time in Vancouver, and would like to see the Berlin space host workshops, apprenticeships and also collaborate with a local design school. He believes Vancouver was a great place to start a company and professional trajectory. 'It's been a fantastic gift because many of the ideas could only have come up without external influence.' But by the same token, the company has hit a 'glass ceiling' of sorts, no pun intended. 'We don't respond to a larger community of designers or artists, people involved in culture. We need to rub shoulders with whatever else is happening in the world.' Arbel talks about 'participating more' and bringing back high craft to a city, Berlin, that emptied of craftspeople after the Second World War.

In Berlin, like in Vancouver, Bocci will do its manufacturing in-house. 'We aren't happy unless we are the ones doing it,' says Arbel. The knock-on effects are massive. Most Bocci pieces wouldn't have seen the light of day if Arbel hadn't had to walk through the glass shop every day and been able to try things out. 'I think it's essential for designers to have a direct relationship with the maker. In my case, even more so since my work is about how the piece is made.'

Before I leave he shows me a prototype, '76'. It's a clear glass orb filled with mesmerising strands of white glass. The experiments that brought it to life involved the most humble of accoutrements, a vacuum cleaner and a box. It's another piece that Arbel calls 'a discovery' and an 'accident'. When 400 of them are filled with light fixtures and hung in Berlin's elegant spaces using custom-made components, that accident will enter the realm of the sophisticated and the sublime. Will it be a piece of art, an installation, a product, or an idea? Who the hell cares?
INFORMATION
For more information, visit Bocci's website (opens in new tab)
ADDRESS
Bocci 79
Kantstrasse 79, Berlin
VIEW GOOGLE MAPS (opens in new tab)