Discover Finnish design for sustainable fiber packaging
Huhtamaki redesigns the future of sustainable fiber-based food packaging by combining Finnish simplicity and functional design with its high-precision technology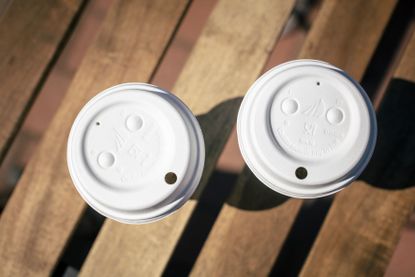 (Image credit: TBC)
Wallpaper* Newsletter
Receive our daily digest of inspiration, escapism and design stories from around the world direct to your inbox
Thank you for signing up to Wallpaper. You will receive a verification email shortly.
There was a problem. Please refresh the page and try again.
In partnership with Huhtamaki
Pay a visit to the Alvar Aalto House in Helsinki's Munkkiniemi district and the hallmarks of quintessential Finnish design – clean functionality and simple, elegant lines, the organic union of natural forms and materials – subtly reveal themselves. In many ways, the same spirit guides the creative process behind what could arguably be one of humanity's most underrated inventions: food packaging.
Finnish design, fiber and the future of food packaging
For a discussion on the tenets of Finnish design and its links to the unsung joys of food packaging, Daniel Frey, head of innovation in fiber foodservice business at Huhtamaki, a global leader in sustainable packaging solutions, joined fashion designer Laura Juslin and architect Lilli Maunula of design studio Juslin Maunula. Together, they examined the relationship between form, function, material and Finnish design, and how this applies to fiber packaging for food – fiber packaging being made from anything from recycled paper and cardboard to natural fibers such as wood pulp, bamboo, bagasse (sugarcane pulp) and wheat straw.
'Design is often seen as a process of problem-solving and finding harmony between all factors and elements affecting the design process,' suggest Juslin and Maunula at the start of the discussion.
Frey underscores a priority of food packaging, in particular, where function often determines form and material: 'As food safety is an absolute must in our product design, we use a safety by design approach. We test raw materials for food contact suitability for specific uses.'
According to Frey, one of the main objectives while working in fiber packaging is to come up with innovations to provide a more sustainable alternative to plastics. 'This affects every aspect of the product design, as fiber is a renewable material, predominantly made from wood.'
He notes that, while plastic still plays an important role as a barrier to protecting food from spoilage, preserving nutrition and extending product shelf life, Huhtamaki has been investing to find more sustainable packaging solutions for key global players such as Mars, McDonald's, Nestlé, Starbucks, Unilever and Costco. The latest innovation is the technology to create smooth-moulded fiber, which opens up new possibilities for wood fiber and takes the material to new heights. Case in point: McDonald's new sundae cup and lid, made from smooth-moulded wood fiber, using 100 per cent renewable materials.
The challenge to replace plastics
Designing products to replace plastics is a multifaceted challenge; many seek copy-and-paste applications of existing plastic products without fully considering the material and technological properties of fiber. 'We're working with the market to show what you can and can't do with fiber,' Frey says.
Huhtamaki's innovations lab balances pragmatism with visionary thinking, highlighting fiber's myriad possibilities via the creation of new products and new markets. 'Fiber offers opportunities plastic cannot,' says Frey. 'This is an educational journey in the market where we're running the typical innovation process with design thinking, quick iterations and prototyping.'
It begins with noting unfulfilled consumer needs or upcoming trends followed by product development. 'It may also start with the plastic benchmark; the goal is to ensure fiber packaging at least delivers the same or similar results.'
Form, function and material
While form following function is a familiar principle of design, 'form should serve the properties of the material' too, says Maunula. 'It's crucial to find design solutions that utilise the properties of innovative materials to maximise their environmental benefits. The material should be respected, and it mustn't be bent or manipulated too much into a form that doesn't serve it. You will always find a way to respect the material as it is.'
But what comes first? Form, functionality or the environmental impact of the material? Huhtamaki takes a material-positive approach to innovation. 'It means we look at various material options – their features and benefits – in each application to ensure fit-for-purpose packaging that protects the environment and food content and is suitable for consumer usages in different geographies.'
While the company believes that there is no silver bullet or one material that is suitable for every conceivable application, Frey says that to optimise and create a sustainable package that is fit for purpose, a material's composition and usage and recycling potential must be determined before all else.
Nodding to nature
'Finnish design aesthetics are characterised by clear, minimalist forms, genuine materials, design rooted in nature and, most importantly, functionality,' state Juslin and Maunula. 'Simplicity of form originates from a need to make the most of the few resources available, strip the design of excess and pare it down to its core idea.'
The same Finnish design principles can be applied to fiber packaging by incorporating nature, claims Juslin. 'Nature is beautifully inspiring. Light, colours, and sounds meet in random patterns. Unusual but intriguing colour combinations are also something to draw from. But the real connection to nature occurs when the design is in harmony with it, regenerating it instead of exploiting it.'
If Huhtamaki's smooth-moulded fiber solutions are any indication of what's to come, the fiber product designs of the future could be an important contribution to Finnish design. The human-centric and organic interplay of form, function and material are especially suited to protect food, people and the planet.
'If you can't match product specifications with consumer expectations, you must find another technology to develop,' says Frey. 'Being an innovator means exceeding expectations with solutions that pleasantly surprise consumers.'
Juslin and Maunula remind us of the human need for beauty, novelty and variety. 'Consumers seek something more than just a product. They want experiences and pleasure. It's the union of elements that makes a design interesting. We experiment with materials freely and are inspired by what we see around us. That's how we create products with the purpose of beauty, emotion and experience.'
'New technology enables new product design,' concludes Frey, who believes the impact of fiber, one of the most adaptable materials on the planet, combined with Huhtamaki's high-precision smooth-moulded fiber technology has the potential to radically redesign the future. 'By developing technology, designing materials, creating products and ensuring they all work together in Huhtamaki's ecosystem, we may very well set in motion a virtuous cycle of truly transformational, sustainable packaging solutions,' he says. 'We're on a very exciting journey.'
INFORMATION
Receive our daily digest of inspiration, escapism and design stories from around the world direct to your inbox