Ettore Sottsass: Un piccolo omaggio a Mondrian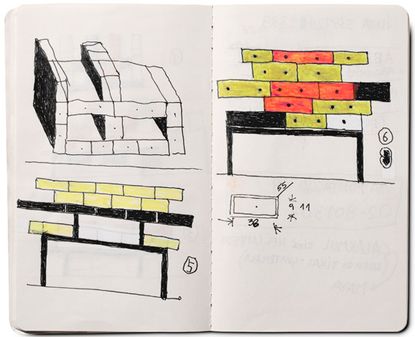 (Image credit: Image courtesy of Friedman Benda)
This may be the last series of furniture that Ettore Sottsass ever designed before his death in 2007 but he instilled it with the same burst of colour and energy that defined his prolific career. Produced in editions of just six, the cabinets are now on show for the first time at Friedman Benda (opens in new tab) gallery in New York.
The Italian designer (1917 - 2007) never went in for pared-down design. 'When I was young, all we ever heard about was functionalism, functionalism, functionalism,' he once said, referring to the rationalist doctrine of his architect father, Ettore Sottsass Snr. 'It's not enough. Design should also be sensual and exciting.'
This mantra was encapsulated in his seminal 'Valentine' portable typewriter for Olivetti (opens in new tab) in 1969, made from bright red plastic with vivid orange spools. By going beyond ergonomics and understanding people's need to attach emotions to their possessions, the designer turned a piece of office equipment into a covetable object.
In the 1981, Sottsass co-founded design collective Memphis - along with the likes of Matteo Thun and Andrea Branzi - whose use of bright colours, kitsch suburban motifs and cheap materials, such as plastic laminates, flew in the face of conventional notions of good taste, yet earned them international acclaim and spawned an entire design movement.
The designer quit Memphis in the mid-1980s to found Sottsass Associati (opens in new tab), whose primary focus was (and still is) architecture. During his lifetime, its projects spanned from a private home for David Kelly to commercial projects for Apple, but Sottsass continued to produce small lines of glass, ceramics and furniture on the side.
His final 'Piccolo Omaggio a Mondrian' cabinets show his customary disregard for the boundaries between artistic disciplines, rolling furniture, architecture and sculpture into one. While paying a strong tribute to the geometry of Piet Mondrian's paintings, the designs rework the De Stijl master's use of colour to eye-popping effect.
ADDRESS
Friedman Benda
515 West 26th Street
New York NY 10001