Cheltenham Design Festival 2013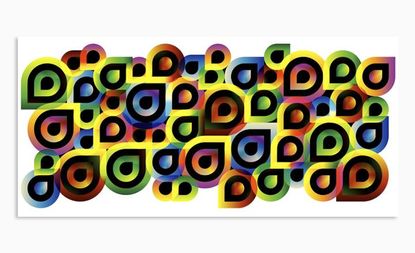 (Image credit: press)
The four-day Cheltenham Design Festival will play host to an impressive line-up of talks and events by design magnates, who will approach and explore the importance and influence of the creative industry on the world we live in. Designer Fred Deakin (whose artwork is pictured) will be hosting a talk during the festival called 'Hooray! Why There's Never Been a Better Time to be a Designer' on Friday 12 April
t may coincide with the behemoth fair that is Milan's Salone del Mobile (opens in new tab) this month, but there's a young design fair on the block, whose notably different approach has seen it become a go-to fair for creatives and design-appreciators alike. Unlike similar festivals which tend to serve as a launch-pad for designers to showcase their newest works, the Cheltenham Design Festival (opens in new tab) works primarily to unite members of the industry with the public through interactive activities and discussion.
The Cheltenham Design Festival launched last year, and its success has it returning for a second wind this April. The title of the festival, 'Who Cares About the Future of Design?' acts as a theme for the fair's schedule, with all events aiming to answer, in one way or another, the posed question.
Held in the Parabola Arts Centre (opens in new tab) in Gloucestershire, the four-day event (from 11 to 14 April) hosts an impressive line-up of talks and events from design magnates, who'll approach and explore the importance and influence of the creative industry on the world we live in.
Design veteran Sir John Sorrell will be deliberating on the creative industry's ability to help develop the economic and intellectual growth of a nation, and journalist Peter York will delve into society's complex relationships with design. Meanwhile aeronautical designer Dr Norman Wood will explore the future of flight and the new generation of aircraft design. Other speakers include Adrian Shaughnessy, Alice Rawsthorn and Paola Antonelli, all of whom will tackle a range design-related topics. There will also be workshops for visitors to participate in, including a drawing class and an 'invention' workshop.
The festival's philosophy is essentially geared to induce creative rhetoric amongst attendees, and thus educating people on the relevance and importance of the creative industry. Founder Sir John Hegarty is a prominent figure within the advertising and creative sector - working for Saatchi & Saatchi (opens in new tab), later co-founding creative agency, TBWA, and starting up Bartle Bogle Hegarty (opens in new tab). As well as putting on the event, Hegarty will be speaking about design and its ability to combine a functional element with a pleasing aesthetic.
Director of Projects, Design and Estates at the V&A, Moira Gemmill and Director of the Design Museum, Deyan Sudjic, will go head to head during a debate entitled, 'Can the Museum Beat the Museum Shop?' The debate will be chaired by Observer Architecture & Design Critic Rowan Moore on Saturday 13 April 2013. Pictured, William & Judith Bollinger Jewellery Gallery, V&A
ADDRESS
Parabola Arts Centre
Cheltenham
Gloucestershire