Beirut's war-torn past and vibrant culture is depicted in a new design collaboration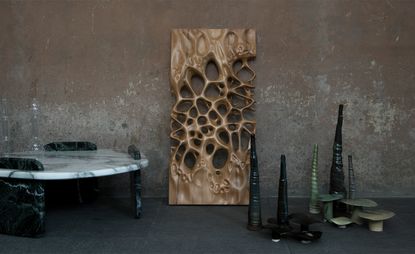 (Image credit: Taim Karesly)
Denmark-based digital design store and gallery Adorno launches its new Beirut design collection today. 'What we found was a really eclectic mix of design, a playful approach and this kind of "no rules" feeling.' says Kristian Snorre, co-founder of Adorno, on what makes the design talent in the chaotic and inspiring city of Beirut special.
The Lebanese capital is the 12th city to be featured on this burgeoning platform that sees its role as promoting the creativity of different cities and providing new retail channels for emerging designers. 'A lot of people do things themselves here [in Beirut] and that's where you really find the culture in design,' says Martin Clausen, co-founder and creative director of Adorno. 'We focused on pieces made directly by the hands of the creator.'

For Ghassan Salameh, creative director of Beirut Design Week (and member of the selection panel and permanent curator of the collection), the arrival of the platform in his native city is also an opportunity to make a sometimes exclusive sector more accessible. 'The local design scene here is dominated to a large extent by designers or galleries belonging to a certain class, or with access to a high level of education and financial means. This is a chance for fresh talent outside those networks to get some exposure.'
This launch follows on from the opening at a joint Adorno and Beirut Design Week exhibition hosted in the city's atmospheric Beit Beirut venue, or Barakat building, an apartment block that became a snipers' lair during the civil war. Beit Beirut has been restored, but its difficult past is retained in war scars found in much of the building's patina. 'I think it's a perfect setting for this kind of design,' says Snorre. 'So much of the work here is influenced by the history of the city.'

Two pieces in the Adorno collection directly reference the Lebanese civil war and continued military presence in the country – but skillfully turn the theme on its head. Tessa and Tara Sakhi's space dividers (or 'barriers of nature') come with vases attached for flowers and mimic the omnipresent security fences around the city, but also reference its lack of greenery. Another piece by them – given the moniker 'seat of rest' – is a bench based on the security barriers used to block tanks and cars, and also a response to the lack of seating in public space.

Other Adorno Beirut highlights include Youmna Geday's 'Unborn Creatures of Light' lamp made of 60 hollowed-out and reinforced eggshells filled with LED lights that creates a celestial and fragile-looking ring of light; Thomas Trad's organic and refined marble and timber coffee tables with unique legs that peek through the table tops; and Zeina Bacardi's unexpected porcelain vessels that feature flourishes of thin weightless-looking material created by skillfully adding liquid clay in layers.

As with Adorno's other participating cities, Beirut's local permanent curator will have the task of scouring the city's design studios and workshops for works to add to the collection. If the pieces in this first selection are anything to go by, they will be eclectic, finely-crafted, original and surprising.
INFORMATION
For more information, visit the Adorno website (opens in new tab)