Irthi presents 'Echoes of Alchemy' at Milan Design Week
UAE's Irthi Contemporary Crafts Council presents 'Echoes of Alchemy' at Fuorisalone 2023, an exhibition co-curated with Mr.Lawrence that explores the theme of hospitality as a connector of cultures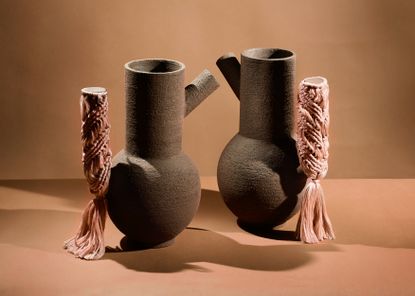 (Image credit: Courtesy Casalinghe di Tokyo)
In partnership with Irthi
At Milan Design Week 2023, Irthi Contemporary Crafts Council presents 'Echoes of Alchemy', an exhibition co-curated with creative consultancy Mr.Lawrence exploring the bond between gastronomic culture, design and craftsmanship. For this project, Irthi and Mr.Lawrence enlisted Milanese practices Casalinghe Di Tokyo and Studiopepe, and Emirati designers Reem Saif Almazrouei and Eman Al Rahma.
Based in Sharjah, United Arab Emirates, Irthi's mission is to empower women from an economic and social perspective through collaborative cultural and creative initiatives globally while preserving and protecting cultural heritage and craftsmanship for future generations across the MENASEA and Central Asia regions. Irthi's past collaborations have comprised leading luxury brands such as Cartier and Bulgari, designers such as Nada Debs and creative initiatives including Aterlier Luma, with exhibitions from Design Miami to London Design Festival.
'Irthi Contemporary Crafts Council aims to channel cross-cultural collaborations for the sustainability of the UAE's rich cultural heritage, preserved by Emirati craftswomen until today,' says Farah Nasri, acting manager, Curation & Design, for Irthi Contemporary Crafts Council. 'These collaborations work on the development of craft-based conversations and know-how with a wider spectrum of artisans, researchers, designers, artists, and architects; utilising design thinking as a means for innovation and culture-based research.'
Irthi presents 'Echoes of Alchemy'
The project presented at Milan Design Week reveals Irthi's cross-disciplinary approach and its ability to connect cultures through research and creative collaboration. The premise of 'Echoes of Alchemy' lies in the importance of gastronomy as a cultural connector, and the exhibition aims at highlighting the role of ingredients and craftsmanship methods within the Emirati topographical and constructed environment.
Using the UAE's heritage and culture as starting points, Mr.Lawrence with Casalinghe di Tokyo (whose motto 'Messing with the table' reveals the collective's unique approach to food), developed a research into gastronomy looking at the deeper meaning of local food cultures.
'The traditional recipes for construction and food can be considered equally intuitive, yet an attempt to break down, document, and redesign such recipes whilst formulating them into the context of a space sheds light on our shared cultural heritage,' says Francesco Mainardi from Mr.Lawrence studio. 'Referencing a locus and its traditional methods of Excavation, Harvest, Preservation, and Craftsmanship – all in direct relation to Gastronomy, Architecture, and Design – is a continuing education on the true meaning of sustainability.'
The result of this research was then used to further develop the design project, namely a series of recipes by Casalinghe di Tokyo and tableware by Studiopepe, Almazrouie and Al Rahma, imagining contemporary dining rituals that transform a meal into a moment of cultural reflection.
Among the designs presented in Milan are the 'Bahri' collection by Al Rahma, which explores the Al Gargour craft, traditionally used to create fishing supports, now reimagined for a quintessentially Emirati dining experience. Handmade by artisans, the collection is defined by a series of baskets made of metal wire woven into a series of contemporary patterns with leather details, and the collection is completed by a series of clay covers for the baskets that nod to food preservation.
Meanwhile, Almazrouei has conceived 'Thaya', a series of modern designs that reference traditional Emirati gestures, such as Makab food covers, trays made with Abu Falqah weaving techniques, and baskets made with a diamond pattern called Duhoori among others. To bring her collection to life, Irthi's craftswomen used their Safeefah weaving skills using hand dyed palm fronds in a palette of bright yellow, orange, lilac, pink, brown and lilac, as well as pink leather.
By looking into local gastronomic heritage and culture, and then presenting those traditions under a contemporary lens, Irthi hopes to educate young creative practitioners on the cultural significance of the rituals of food consumption and preservation.
'Recipes for Future | A Cross-Cultural Alchemy marks the first gastronomy-related research and publication for the council. In this ongoing dialogue between tradition and innovation, forward-thinking ideas on sustainability are applied to gastronomy and culinary traditions,' adds Nasri. 'The project underlines the everlasting importance of food conservation and those inherited techniques which today, more than ever, are important topics of a contemporary debate on cultural identity and sustainability.'
Information
'Echoes of Alchemy' by Irthi Contemporary Crafts Council is on view from 17 to 23 April 2023
Via Cesare Correnti, 14
Milan
Rosa Bertoli was born in Udine, Italy, and now lives in London. Since 2014, she has been the Design Editor of Wallpaper*, where she oversees design content for the print and online editions, as well as special editorial projects. Through her role at Wallpaper*, she has written extensively about all areas of design. Rosa has been speaker and moderator for various design talks and conferences including London Craft Week, Maison & Objet, The Italian Cultural Institute (London), Clippings, Zaha Hadid Design, Kartell and Frieze Art Fair. Rosa has been on judging panels for the Chart Architecture Award, the Dutch Design Awards and the DesignGuild Marks. She has written for numerous English and Italian language publications, and worked as a content and communication consultant for fashion and design brands.