Pleasure seekers: sex toys for design lovers
We tell a provocative toy story with these stylish sex toys from luxury fashion brands and the Wallpaper* design archives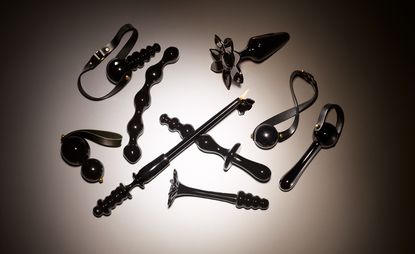 (Image credit: Anthony Cotsifas)
Design lovers – celebrate Valentine's Day with our aesthetically minded edit of scintillating sex toys. From a blown-glass decorative dildo to a whole 'forest' of toys, these pieces walk the line between utilitarian pleasure objects and highbrow art pieces.
'Pleasure Objects' by Sunnei
Milanese fashion brand Sunnei has launched a range of Murano glass Pleasure Objects that double as sculptural works of art. The collection includes a prune-coloured dildo, a conveniently posed transparent hand, and other objects blown and hand-moulded by Venetian artisans.
Designed to be displayed on tabletops, the Pleasure Objects series is guaranteed to spark some scintillating intercourse, in both senses of the word.
sunnei.it (opens in new tab)
Vibrators by Kiki de Montparnasse
Kiki de Montparnasse's range of sex toys are sensually and aesthetically satisfying, as evidenced by the Contour Vibe sex toy on a chain that we featured in Wallpaper's May 2011 issue. The New York-based retailer of lingerie and 'items of pleasure' offers a range of vibrators, from the compact Étoile Bullet to the 24ct gold, £1,300 superstar product, The Gold Wand.
kikidm.com (opens in new tab)
'Forest of Theoretical Sex Toys' by Douglas Coupland and Eva Franch i Gilabert
For the 2019 edition of Wallpaper* Handmade, Canadian novelist Douglas Coupland and the Architectural Association's first female director (2018 – 2020), Eva Franch i Gilabert, collaborated on a 'forest' of playful sex toys. Coupland used the AA's state-of-the-art Prototyping Lab to 3D-print the cartoon-like toys, which were inspired by a painting of gathering trees in Georgian Bay by Canadian artist Lawren Harris.
'What is interesting is that we live in a time when pornography is common,' said i Gilabert about the project at the time. 'But is watching porn the only way we can get into a state of arousal? Art should also be able to produce that connection, or at least deliver a moment of pure beauty.'
'Adult Tool Kit' by Jeff Zimmerman and Michael Reynolds
Wallpaper's very own US director, Michael Reynolds, designed a provocative onyx 'Adult Tool Kit' in collaboration with glass artist Jeff Zimmerman. The project launched at Wallpaper* Handmade 2014, but the idea came almost a decade before, when Reynolds made a visit to Zimmerman's New York studio.
Zimmerman's glass fetish pieces and artistic experimentations with phallic shapes caught Reynolds' eye and inspired what would become the first sex toy collection in the Wallpaper* Handmade arsenal. All the glass was blown by Zimmerman, while the leatherwork was done by accessories specialist TM1985 and the hair by stylist Peter Matteliano.
'Toyboy' by Fabio Novembre
Italian architect Fabio Novembre designed this steller sex toy for Czech glass manufacturer Lasvit's 'Monster Cabaret' showcase at Salone del Mobile in 2018. Inspired by da Vinci's Vitruvian Man, the 28cm handblown glass object was described by Novembre as a 'little friend of monstrous proportions'.
0
Beauty & Grooming Editor
Mary Cleary is the Beauty & Grooming Editor of Wallpaper*. Having been with the brand since 2017, she became an editor in February 2020 with the launch of the brand's new beauty & grooming channel. Her work seeks to offer a new perspective on beauty, focusing on the pioneering personalities, product designs, and transformative trends within the industry.