Eternal love for the pumpkin: Yayoi Kusama takes over Victoria Miro, London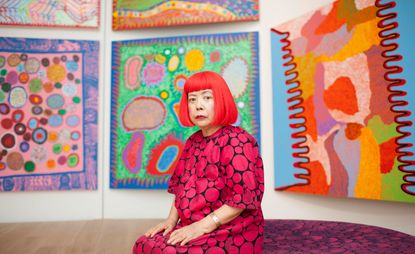 (Image credit: Noriko Takasugi)
Stepping into Yayoi Kusama's mirror pumpkin room is like walking into a harvest festival on acid, a post-mushrooms Thanksgiving. The 87-year-old Japanese artist has always had a thing for pumpkins; they have been a recurring theme in her work since the 1940s, unsurprising as her family cultivated seeds for a living so she grew up surrounded by fields of full of the globular forms of kabocha squash.

Indeed, at Victoria Miro's vast exhibition of Kusama's new work, one gallery is an ode to the humble pumpkin, which she admired for their 'general unpretentiousness' and 'charming and winsome' forms. Three new bronze pumpkin sculptures lead you across to a white box containing the whimsically named All the Eternal Love I Have for the Pumpkins, the first mirror pumpkin room Kusama has created since 1991.

Kusama has filled Victoria Miro's gargantuan Wharf Road space in East London, its tranquil garden space, and the Mayfair gallery with new paintings, sculptures and mirror rooms, the first time the latter have been on display in London since her Tate Modern retrospective in 2012. A daunting feat for an artist of any age, let alone an octogenarian, and testament to her energy.

Infinity, the sublime, obsessive repetition, immersive experience; these themes permeate the show. Central to the Wharf Road show are the three mirror rooms – stick with the queue, as the humbling, disorientating sense of infiniteness on entering is worth the wait. Downstairs, the mood turns gothic within the theatrical Chandelier of Grief, the pulsating lights contained within a column made of a one-way mirror. Moving outside, the canal is carpeted with the mirrored spheres that form Narcissus Garden from 1966, a permanent installation, and a polished steel cube contains the third mirror room. Where the Lights in My Heart Go is punctured by small holes, the 'stars' of daylight creating, in the words of Kusama, a 'subtle planetarium'.

But upstairs there are paintings too, again preoccupied by repetition and illusion with Kusama's characteristic polka dot paintings and the dense, scalloped webs of her Infinity Nets series. Meanwhile Victoria Miro Mayfair is populated by new paintings from Kusama's ongoing series My Eternal Soul, started in 2009. These large, energetic canvases overflow with playful imagery – faces, eyes, cell structures – their bold patterns and vivid palette curiously reminiscent of Aboriginal patterns.

Kusama is a polymath; over her long career she has defied any one categorisation as an artist, variously associated with surrealism, pop art, zero art, minimalism, feminist art (if there is such a thing) and more. But what does it matter? Even if Kusama's dot paintings leave you cold (and there are a lot of them…), that sheer overwhelming feeling of entering a mirror room is worth the trip alone.

INFORMATION
'Yayoi Kusama' is on view until 30 July. For more information, visit the Victoria Miro website (opens in new tab)
Photography courtesy the artist, KUSAMA Enterprise, Ota Fine Arts, Tokyo / Singapore and Victoria Miro, London
ADDRESS
Victoria Miro
16 Wharf Road
London, N1 7RW
Victoria Miro Mayfair
14 St George Street
London, W1S 1FE
VIEW GOOGLE MAPS (opens in new tab)