Walking on sunshine: Christo returns to Italy with his latest installation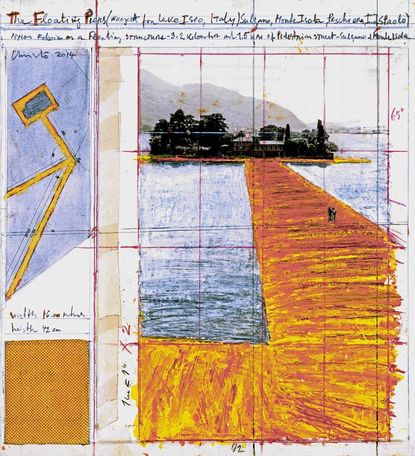 (Image credit: André Grossmann)
200 kilometres west of Venice, on the shores of Lake Iseo lies Sulzano, the chosen spot for Christo Yavachev's latest shimmering installation.
For 16 days in June 2016, summer trippers will have the opportunity not just to dip their toes in the glassy waters, but also to become part of a project that will see the lake crisscrossed with floating pathways, wrapped in swathes of rippling, saffron-yellow fabric.
This is 'The Floating Piers', the veteran Bulgarian artist's first project in Italy for more than four decades, and his first major work since the death of his wife and long-time collaborator Jeanne-Claude. The pair, known simply as Christo and Jeanne-Claude (opens in new tab) are perhaps best known for their wrapping of the Reichstag in Berlin or their 2005 project, 'The Gates', which saw New York's Central Park become dissected by 23 miles' worth of serpentine walkways, delineated by 7,503 'gates' made from billowing orange nylon.
On Lake Iseo, Christo will construct three kilometres of walkways from 200,000 high-density polyethylene cubes, which will bob happily about 50 cm above the surface of the lake, bringing the man-made and natural together in vibrating harmony. Like ribbons of sunshine, the walkways will guide visitors 1.5 km through the village, down to the lake's edge and across the water, towards and around the lake's island of San Paolo.
The project will be entirely funded by sales of Christo's original works and sketches for the project and afterwards, in typical Christo style, the walkways will all be broken down and recycled.