Wadi AlFann: the first five artists prepare for AlUla's desert land art showcase
Wadi AlFann, the new destination for land art in AlUla, Saudi Arabia, will place large-scale works by leading contemporary artists in dialogue with nature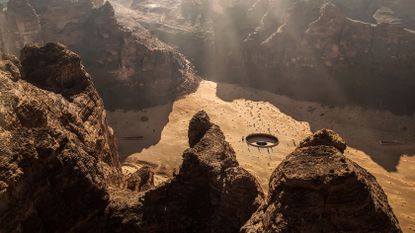 (Image credit: Visualisation by Atelier Monolit. Courtesy of ATHR Gallery)
In partnership with Wadi AlFann
Wadi AlFann will unveil era-defining works by some of the world's most compelling contemporary artists, in the desert landscape of AlUla, Saudi Arabia. From 2024 onwards, the new land art destination will see thousands of years of natural and cultural heritage reimagined as a vast stage for specially commissioned, site-specific artworks by Manal AlDowayan, Agnes Denes, Michael Heizer, Ahmed Mater and James Turrell.
Promising spectacle on an unprecedented scale and art in dialogue with nature, Wadi AlFann, meaning 'Valley of the Arts' in Arabic, is a new 65 sq km destination that represents a landmark moment for 21st-century Saudi Arabian culture.
Juxtaposed with traces of ancient desert communities, the ambitious first showcase of contemporary artworks is just the beginning. The project is set to grow, with more artworks in years to come. Collaborating artists are encouraged to respect and respond to the AlUla landscape, taking inspiration from its dramatic topography, undulating vistas, remarkable geological structures and complex natural ecosystem. The project will provide unparalleled opportunities for local communities to experience art as a source of education and enrichment, while also welcoming art lovers and adventurers from across the world.
Wadi AlFann: meet the first five artists
James Turrell, a leading figure of the Light and Space movement of the 1960s, adds to Wadi AlFann's experience of space, colour and perception, creating a series of installation spaces within the canyon floor, which can be explored via tunnels and stairs. He first visited the Wadi AlFann site in 2020. 'I was surprised that the sandstone formations looked very similar to those in Arizona. I was very familiar with that kind of landscape and strangely felt at home with doing work there,' he explains.
'The work envisioned for Wadi AlFann will have two large Skyspaces and two small Skyspaces, that each address different aspects of sky. All of my Skyspaces engage the natural light of the area. The light quality in AlUla is of dry desert air with little moisture, which yields a light in the sky that is crisp and clear. I use light as a material to work the median of perception, so as to engage the limits and wonder of human perception.'
A keen, sensitive witness to cultural metamorphosis, Saudi artist Manal AlDowayan's practice revolves around themes of invisibility, collective memory and the status and representation of women. Her labyrinthine installation Oasis of Stories takes inspiration from the mud walls of AlUla's Old Town, inviting viewers to walk through and get lost in an architectonic sculpture that replicates the ancient spaces of ancient Arabic settlements.
Agnes Denes' artistic oeuvre is distinctive in terms of its remarkable aesthetics and engagement with science, philosophy, psychology, linguistics, poetry, history, music and sociopolitical ideas. Her new work will continue her ongoing series of monumental pyramids; through careful examination of the rocks' characteristics, the new pyramids will awaken the silent canyons they sit within.
Michael Heizer is known for producing large outdoor earth sculptures and for his work with rock, concrete and steel that exists both outside and inside museums and galleries. At Wadi AlFann, Heizer introduces new lineal/incised engravings in the sandstone, relating directly to the extraordinary geology of the area.
Physician-turned-artist Ahmed Mater, a significant cultural voice documenting and scrutinising the realities of contemporary Saudi Arabia, creates a new work, Ashab Al-Lal, that will explore the mythic space between subjective imagination and objective reality by generating a mirage within the sand dunes.
With the preservation of the valley central to its mission, Wadi AlFann's development commits to the region's biodiversity and natural heritage, reintroducing wildlife and protecting indigenous flora and fauna. The site's pavilions, walkways and belvederes will use locally sourced materials and be positioned to enable free movement of camel herds and other native species.
Wadi AlFann will also link AlUla's two historic capitals – Qurh, one of the seven great marketplaces of Arabia, and Hegra, built by the Nabataeans over 2,000 years ago – adding a rich new dimension to the journey through AlUla and connecting its past with its future.