'The Unguarded Moment' by Steve McCurry, Nice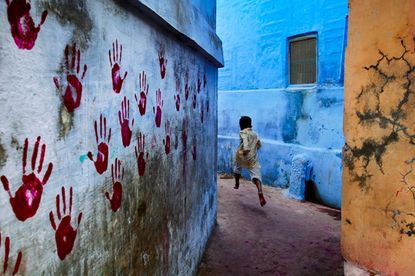 (Image credit: TBC)
The piercing turquoise eyes of a young Afghan girl, the warm pink robes of Burmese nuns, the porcelain white face of a Japanese geisha: Steve McCurry (opens in new tab)'s extraordinary photographs uncover the beauty of ordinary, fleeting moments, drawing us in with splashes of vivid colours into the daily life of anonymous men and women.
The new exhibition in L'Atelier Soardi (opens in new tab) - McCurry's first in the South of France - features the photographer's 'Unguarded Moment' series. Over 21 large-format and 14 small-format prints are displayed in the former cinema studio where Matisse famously worked on his Danse painting in the 1930s.
McCurry, who won numerous prizes for his work in Pakistan and Afghanistan in the late 1970s (the most famous of which is his portrait of a Afghan refugee, which made the cover of the National Geographic in 1985), has worked as a Magnum photographer for over 25 years. He has spent his long career travelling the world - in particular Asia, and countries such as Tibet, India, Burma and Cambodia.
Named after the unguarded, unselfconscious moments that McCurry so strives to capture, the exhibition includes intense portraits - an Afghan miner covered in coal, for example - as well as daily scenes of people going about their everyday business in unique settings, such as man, child and dog dwarfed by the giants tree roots and stones of an Angkor temple in Burma.
Also included is a shot of a boy running, frozen mid-flight between bright yellow and blue walls in a street in Jodhpur, India, which is typical of McCurry's work and passion for colour. 'Most of all, I find my inspiration in colours: dark shades of henna, curry and saffron; the richness of black lacquer; and layers of old paints,' he says.
ADDRESS
L'Atelier Soardi
8 rue Désiré Niel
06000 Nice
VIEW GOOGLE MAPS (opens in new tab)
Léa Teuscher is a Sub-Editor at Wallpaper*. A former travel writer and production editor, she joined the magazine over a decade ago, and has been sprucing up copy and attempting to write clever headlines ever since. Having spent her childhood hopping between continents and cultures, she's a fan of all things travel, art and architecture. She has written three Wallpaper* City Guides on Geneva, Strasbourg and Basel.