Sarah Crowner binds painting and performance in her vibrant stitched canvases
Hong Kong's Simon Lee Gallery debuts new works by the Brooklyn-based artist in 'Paintings for the Stage'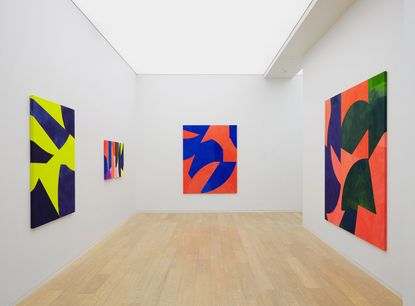 (Image credit: TBC)
Painting and performance art share a curious – if not always immediately apparent – kinship. Pollock gave rise to the term 'action painting' (by way of critic Harold Rosenberg), Rauschenberg toured with and produced sets for choreographer Merce Cunningham's dance company, while Klein used nude female models as his paintbrush. Cue artist Sarah Crowner, the New York-based painter who, too, has seamlessly sewn together both in a new series of stitched canvases for her first solo exhibition in Asia, on view at Simon Lee Gallery in Hong Kong.

Crowner's vivid paintings tempt impulsive comparisons with Matisse and Ellsworth Kelly, but it's the backs of her canvases that reveal she's telling an altogether different story to them. The artist works directly on the floor of her Brooklyn studio, composing painted swatches of canvas and intuitively fastening them together with an industrial Juki sewing machine before stretching them onto a frame – 'that's the when the painting gets to the point where I can understand what it is.' Crowner will stretch a painting 'six or seven times', altering its components until it's deemed 'successful'.
'Paintings for the Stage' continues the artist's architectural and scenographic interventions, recently explored in the American Ballet Theatre Company's Garden Blue production. 'The experience of working on that scale, and working with performers, dancers, musicians and choreographer was life-changing for me. It made me start thinking about my painting practice in a new way,' explains Crowner, who designed costumes as well as a vast backdrop for Jessica Lang's ballet.

'I thought what if I could take that [theatre] experience and somehow translate or at least bring one of those elements into the gallery and see what it does,' says the artist. 'For example, what would it be like to hang a painting on backdrop and how it would affect your reading of a painting?' To wit, Crowner enlisted local scenic painter and theatre set designer Pink Lam to realise a wall painting for her Hong Kong exhibition, casting her largest canvas adrift in an aqueous azure mural.

Her latest body of work feels bolder, energised by her recent foray in the theatre. 'I started placing different colours together that I normally wouldn't… There's a vibration and dimensionality that happens when you place these certain colours together and I was interested in playing up those experiences to the eye,' she adds. 'I'm interested in pushing that optical experience more and more.' Encore!
INFORMATION
'Paintings for the Stage' is on view from 15 February – 20 March. For more information, visit the Simon Lee Gallery website (opens in new tab)