Flower power: Porsche's immersive installation blooms at Milan Design Week
For 'The Art of Dreams', Porsche explores nature and technology with an immersive installation by botanical artist Ruby Barber of Studio Mary Lennox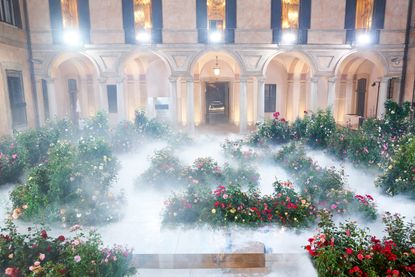 (Image credit: Image courtesy of Porsche AG)
For its Milan Design Week debut, Porsche presents the latest work in its series 'The Art of Dreams', at Palazzo Clerici, Brera. The company explores the interplay of nature and technology through an immersive installation by Berlin-based botanical artist Ruby Barber, founder of Studio Mary Lennox. The sculptural artwork combines the fragility of flowers with the promise of 21st-century tech.
Fascinating in its resting state, the installation comes to life for regular, choreographed performances. In an intense creative development process, the artist collaborated with flight engineers and dedicated drone pilots to create a new-to-the-world art experience.
Ideas of renders and animations, first envisioned in the virtual realm, are transported into reality, creating surreal vistas and sensations for the viewer. The installation connects with the sports car manufacturer's pioneering spirit, simultaneously posing subtle questions about the role of technology, its global contribution and its relation to the natural world.
'I am curious to explore the connections between nature and the modern human environment,' says Barber. 'The possible interactions between botanics and technology are particularly intriguing to me. In this work, I dreamt of a meeting place between the two worlds, fusing both together to create a space for a new experience.'
Barber's surreal arrangements create spaces between nature and architecture, between reality and dreams. Her installations are modern and emotional, and include collaborations with the likes of Hermès and Cartier.
This piece is the second commissioned work for 'The Art of Dreams', a global art initiative by Porsche that deals with the motif of dreams through various interactive installations in major cities around the world. With its aim to inspire, convey optimism, and contribute to lively communities, the initiative launched in Paris in 2021 and visited Singapore in early 2022.
During Milan Design Week 2022, 'The Art of Dreams' will be showcased at Palazzo Clerici for seven days as part of a wider programme of engagement, including exclusive events and a secluded garden café. Committed to a sustainable way of working in local communities, the brand selected partners from among the best and brightest of Milan's creative minds and culinary entrepreneurs.
Yoga and meditation sessions, for example, in collaboration with yoga community Ciaomondo, founded by Licia Florio and Francio Ferrari, provide a mindful start to the bustling days of Salone.
Vegan and vegetarian delicacies for all exclusive events are created by Sara Nicolosi, Cinzia De Lauri, and Giulia Giulia Scialanga, the chefs and masterminds behind Altatto, Milan's most innovative haute cuisine establishment.
In the garden, meanwhile, Milan-based, Buenos Aires-born artist Alek O will realise a group of sculptures, giving new life to found tiles, and welcoming visitors to rest and enjoy the peaceful surroundings.
'Porsche is driven by dreams,' says Robert Ader, chief marketing officer at Porsche. 'With "The Art of Dreams" initiative we want to remind people about the importance of dreaming and to inspire them. At the same time, we are keen on supporting the creative community and on bringing exceptional artwork to the public.'
INFORMATION
'The Art of Dreams' is at Palazzo Clerici, Via Clerici 5, 20121 Milan, 6 – 12 June, porsche.art