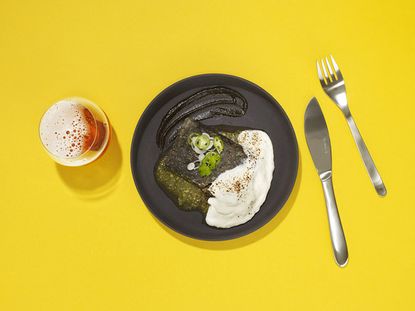 (Image credit: Press)
Wallpaper* Newsletter
Receive our daily digest of inspiration, escapism and design stories from around the world direct to your inbox
Thank you for signing up to Wallpaper. You will receive a verification email shortly.
There was a problem. Please refresh the page and try again.
Three major new art museums are in construction in Mexico City and Guadalajara, while existing museums are being ambitiously extended and revamped
Barranca Museo de Arte Moderno y Contemporáneo, Guadalajara
While Guadalajara has always been at the forefront of contemporary art in Mexico (boasting great collectors, a vibrant young art scene and the first Mexican international art fair was held there in the mid 1990s) it has never had a decent contemporary art museum. After a number attempts over the years to establish, including proposals for a Guggenheim franchise in the Barranca del Cobre designed by Enrique Norten, it seems like Guadalajara will finally be getting the cultural complex it deserves. The building is designed by Swiss architects Herzog & de Meuron and financed by the Government of Jalisco in a piece of land donated by the city of Guadalajara. Located to the north of the city, in Parque Mirador Dr. Atl, on a mountain at the end of Calzada Independencia, at the point where the city ends and Guadalajara's natural landscape begins.The building will have 11,000 sq m, of which 4,000 sq m will be dedicated to exhibition space and will be surrounded by a park.
Barranca Museo de Arte Moderno y Contemporáneo, Guadalajara
Museo del Chopo
During the last decade, UNAM, Mexico's National University has been busy developing its cultural infrastructure to make it one of Mexico's strongest cultural offers. A few years ago, it rescued from the ruin El Eco Experimental Museum (designed by Mathias Goeritz in 1952), then it opened MUCA, the University's Contemporary Art Museum, built in the modernist lava campus and designed by Teodoro Gonzalez de Leon and housing the UNAM's Mexican contemporary art collection. This year, the University has reopened the refurbished Museo del Chopo. The building with a steel structure designed by Bruno Möhring in 1900 for the Fair of Art and Textile Industry in Düsseldorf, was imported to Mexico in 1902, and a decade later it opened as the Museum of Natural History, housing among other curiosities a giant dinosaur skeleton. In the 1970s El Chopo became one of UNAM's off-site cultural centre, housing avant-garde manifestations including art, dance and performance and during the 1980s and 1990s the Gay Cultural Week. Today, El Chopo's steel structure is now occupied by a huge floating glass box designed by architect Enirque Norten/TEN and which provides exhibition rooms, a cinema, a documentation centre and a cafeteria. Spaces are connected by a series of ramps and the terrace at the glass box's roof allows the visitors to admire the steel structure from beneath. El Chopo is located in Santa Maria la Ribera a XIX century upper class neighbourhood, with a housing stock which is recently being rescued, and which is becoming one of the hip upcoming neighbourhoods.
http://www.chopo.unam.mx/
Museo del Chopo
Fundacion/Coleccion Jumex
In 2001 Eugenio Lopez, then 34 and the only son and inheritor of the biggest juice company in Mexico and Latin America, opened his art collection to the public in a concrete bunker located in the family's juice factory.
Comprising more than 2,000 pieces from prominent international and emerging artists, the collection has helped to establish names such as Gabriel Orozco, Francys Alys and Santiago Sierra on the international scene and to create a buzz about the then emerging contemporary art scene in Mexico.

The only problem was that the factory was located in Ecatepec, one hour north of the city en route to the pyramids of Teotihuacan, and with the city's traffic, the journey was not an easy one.
This is soon to change, with a new building designed by David Chipperfield which will be located near Polanco, in the new Soumaya Complex, Mexico City's new culture destination.

The four storeys 4,000 sqm building will double the old exhibition facilities and will be formed by a series of minimal white cubes, stacked to form an abstract pyramid, with a series of courtyards and terraces that allow natural light into the exhibition areas.
Construction is scheduled to start autumn 2010.
http://www.lacoleccionjumex.org/
Museo Rufino Tamayo
Since it opened in 1981 to house painter Rufino Tamayo's own work and his modern art collection, the Museum Tamayo has been at the forefront for international contemporary art. The museum now has a new programme headed by its new director, Sofia Hernandez Chong Cuy and a new image and journal designed by Project Projects design studio in New York City.

Rufino is a biannual journal published by the museum presents a range of essays and artworks connected to the museum's new contemporary art program.
www.museotamayo.org
image design and rufino magazine by projectprojects.com/
Museo Rufino Tamayo
The amazing brutalist building in abstract Aztec style built by Teodoro Gonzalez de Leon is also getting a new extension designed by Gonzalez de Leon and which will include a refurbishing of the existing exhibition spaces, and a new restaurant, shop and storage area.
La Tallera/Siqueiros Museum, Cuernavaca
Young architect Frida Escobedo, (who with Jose Rojas recently refurbished cool modernist hotel Boca Chica in old Acapulco) has just won the competition to redesign the Siqueiros studio in Cuernavaca, located one hour south of Mexico City.

David Alfaro Siquieros was one of Mexico's three grand muralists (the other two were Rivera and Orozco) and he was also the more political. While his atelier in Mexico City, already functions as an exhibition space, La Tallera was suffering from abandonment. Escobedo's project opens the museum's courtyard to the plaza by rotating Siqueiros murals from their original position generating a new relationship between the museum/atelier and its surrounding spaces.

As the courtyard opens towards the street, La Tallera opens to the public space and integrates the adjacent plaza as an extension of the complex.
La Tallera, Calle Venus 52, Jardines de Cuernavaca, Cuernavaca, Morelos
Museo Soumaya
Situated in a former industrial area north of the affluent Polanco district of Mexico City, Museo Soumaya will house the art collection of Carlos Slim, one of the world's richest men. Designed by Fernando Romero, an OMA collaborator Petra Blaisse, who is in charge of the interiors, the structure will provide the city with an iconic new building covered with glistening aluminium panels.

Slim's vast, eclectic collection of impressionist painting, Mexican religious art, Rodin sculptures and objets d'art will be spread over five floors, connected by a series of ramps leading to rooftop terrace with far-reaching views of the city.
http://www.museosoumaya.org/
High Culture
Museo Soumaya
An elegant 17 room boutique hotel, transformed and extended by local practice LRDG
The popular brasserie and café at Hotel Brick
One of the rooms at Hotel Brick
Receive our daily digest of inspiration, escapism and design stories from around the world direct to your inbox