Brave new world: Aldous Huxley meets maniacal gnomes at Djordje Ozbolt's latest show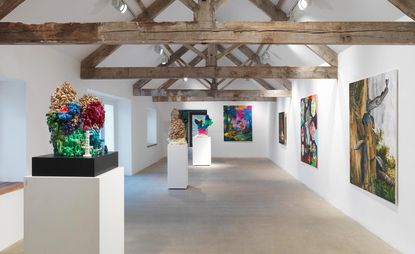 (Image credit: Photography: Ken Adlard. © Djordje Ozbolt. Courtesy of the artist and Hauser & Wirth)
There is an incongruous new addition to the entrance of Hauser & Wirth Somerset: a large yellow gnome, who appears to be hurling himself off a rooftop. The maniacal figure forms part of an imaginative new survey of paintings and sculptures by Serbian artist Djordje Ozbolt. The show takes its name from Aldous Huxley's 1932 cult science fiction novel, Brave New World, which Ozbolt first read as a teenager. 'It made a real impact on me,' he revealed. 'So, the title was my starting point. I worked backwards from that.'
Crucially, all of the works on show were conceived during his 2016 residency with the gallery at The Maltings Studio in Bruton. The political turmoil that unfolded during this period profoundly affected Ozbolt, who cited a mood of 'heighted anxiety' fuelled by Brexit and the US presidential election. 'So, the name of the exhibit and connection with Huxley felt fitting,' he affirmed.
This tension bubbles to the surface throughout, making his signature application of cartoon motifs, kitsch and canonical art history references feel even more sinister and, at times, explosive. The acrylic painting Hell's Own, for example, depicts the hybrid of an English gentleman-cum-fictional demon 'Hell Boy' – sporting horns and skin the shade of blood. While in Marauders, a trail of resin gnomes (which Ozbolt smuggled back from Serbia) charges through the gallery, disorientating the space. 'They are unwelcome guests, cultural refugees,' he said.
Yet, it was Ozbolt's radical, mixed-media sculptures that showed the most progression. He explained, 'these are totally different to the sculptures I have made before. They began as a process as opposed to an idea.' Made from wire frames, expanding foam and studio ephemera, the works nodded to the natural world – taking the abstracted form of a tree or human being – but appeared liberated and otherworldly, with porous surfaces and lurid colours. 'Perhaps they are higher beings or something,' he mused, with a smile.
INFORMATION
'Djordje Ozbolt: Brave New World' is on view until 7 May. For more information, visit the Hauser & Wirth website (opens in new tab)
ADDRESS
Hauser & Wirth Somerset
Durslade Farm
Dropping Lane
Bruton
Somerset BA10 0NL
VIEW GOOGLE MAPS (opens in new tab)