Still life: Darwin, Sinke & van Tongeren's artful taxidermy at Jamb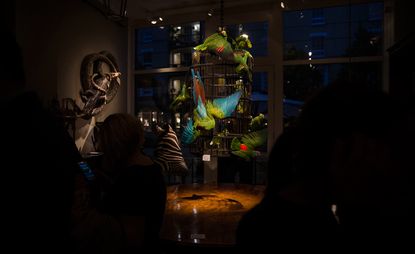 (Image credit: Ilvy Njiokiktjien)
Travelling the world after selling his advertising business Doom & Dickson in 2011, Ferry van Tongeren decided to become a taxidermist. 'It just came to me suddenly,' he explains, laconically.

Returning to Holland, he persuaded a taxidermist to train him, but began to question the established 'leg at each corner' approach. Jaap Sinke, his former colleague of 20 years at advertising firm Ogilvy & Mather, instantly understood his desire for a more flamboyant approach, one that referenced Old Master paintings while being imbued with whimsical humour. Sinke left his job to train under van Tongeren and in 2013 they founded their atelier, Darwin, Sinke & van Tongeren (Charles Darwin is their 'sleeping' partner).

They launched on 1stibs.com early in 2014 and that summer, while visiting the nearby Masterpiece London fair, they cycled past antiques dealer Will Fisher's shop Jamb on Pimlico Road.

'We were on Boris bikes due to the tube strike and Ferry and I both just stopped outside,' says Sinke. We were looking for somewhere to hold our first exhibition but we didn't want a white cube. This was perfect.'

It was a meeting of minds; long a fan of taxidermy, Fisher's stuffed bulldog famously sold for over £19,375 at Christie's a few years ago. In October 2014, they held their first exhibition at Jamb and Damien Hirst acquired almost the whole lot for his 'Murderme' collection. Now, with 38 works, they've arrived for a second until 8 July.

Fisher, Sinke and van Tongeren are at once flamboyant creatives and sticklers for detail. Set among Jamb's antique fireplaces and classical Georgian furniture are monkeys, hornbills, reptiles, a zebra, two red ibis and an antique cabinet of rare, exotic birds.

It's akin to entering an immersive theatre set, a Dutch Old Master come alive. However, chief inspiration here were the early natural history artists John James Audubon and Ernst Haeckel, whose 'big flamboyant poses showed as much of the animal as possible', says van Tongeren.

Sinke's pride and joy is the Amur tiger, which died of kidney failure in a Dutch zoo; the pair stress that none of the animals were killed for their work. Wary they may never have another, the tiger stayed in the freezer for months until the pair decided on the sweeping lines of this dramatic, Rubenesque composition.

Sinke and van Tongeren 'try to imagine a frame around all of the works'. In painting, composition is invariably aided by light and here Harry Triggs and Andrew Molyneux of TM Lighting have cast dramatic chiaroscuro across each piece.

Prices range from about £3,000 to £75,000 (the majority in the region of £10,000); also on show are Darwin, Sinke & van Tongeren's Unknown Poses taxidermy photographs. Recently shown at Photo London, these strangely beautiful photographs depict the 'empty' skins floating in water.

Sounds ick? Not at all; they are strange, still, beautiful.
Information
'New Masters by Darwin, Sinke & van Tongeren' will be on view until 8 July at Jamb. For more information, visit the Fine Taxidermy website

Photography courtesy the artists
Address
Jamb
97 Pimlico Road
London, SW1W 8PH
Receive our daily digest of inspiration, escapism and design stories from around the world direct to your inbox