Artists create original works on Nancy Gonzalez bags for charity auction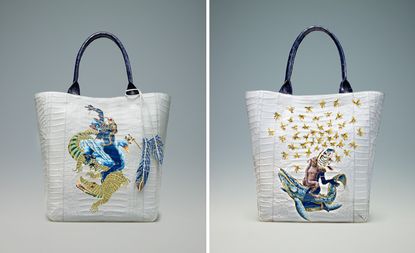 (Image credit: TBC)
On 20 October, ten one-off, original works of art donated by the likes of KAWS, Lawrence Weiner and Jenny Holzer will go under the hammer as part of Two x Two for AIDS and Art, an annual art auction held in the Richard Meier-designed Rachofsky House in Dallas.

But rather than your usual static, hang-on-the-wall affair, the pieces on offer are handbags - 'mobile art', in the greatest sense of the word. Orchestrated by Nancy Gonzalez and the Dallas-based charity Two x Two, the project sees ten major contemporary artists each set loose on a 'blank canvas' - in this case, matte albino crocodile leaf totes with navy handles, from the luxury exotics brand.

Brian Donnelly, the artist otherwise known as KAWS, has painted his signature x-ed out eyes on one. A giant cupcake-shaped confection sums up artist Will Cotton's oeuvre on another. Meanwhile, Raqib Shaw's creation is spectacularly bejewelled affair, shrouded in purple wrapping paper and ensconsed in a huge purple velvet-lined wooden 'coffin' (Nancy Gonzalez president Santiago Barbieri Gonzalez confesses that when it arrived in his hotel room in St Tropez, he almost cried).

On the other end of the spectrum, Jenny Holzer's seemingly spartan offering opens up to reveal a brilliant counterpoint - the mantra 'protect me from what I want', embossed repeatedly across the bag's entire lining. Meanwhile
Lawrence Weiner has emblazoned his bag with a slogan from one of his existing artworks.

All ten works have been donated for auction as part of the charity's annual gala, the proceeds of which will go to amfAR (American Roundation for AIDS Research) and The Dallas Museum of Art. Gonzalez is an avid art collector, but when it comes to his personal passion and the brand he presides over, the two worlds have never collided - until now. What pushed him to get involved? A visit to the Dallas Art Fair and an introduction to Two x Two founders (and well known art collectors) Howard and Cindy Rachofsky, he reveals. The philanthropist pair proposed the project to him and 'it all made sense'.

The project's wheels were quickly set in motion. A week after he issued the go-ahead, Gonzalez and Amy Phelan, this year's Two x Two co-chair, planned out the list of artists while they were at a wedding in Venice. 'I like minimal, conceptual art, but it was important that the list encompass the idea of art that everyone would like, a mixture that would find itself appealing to a wide spectrum of people.'

And so, the diverse cast of artists they approached earlier this year in May included the likes of Richard Phillips, Josephine Meckseper, Dr. Lakra, Jim Hodges and Mickalene Thomas. All ten artists said yes, and packages containing the crocodile swatches were sent out to them for tests and further development. Like the artists involved, the resulting bags are an aesthetic assortment - 'Some are small interventions, others are complete sculptures', says Gonzalez.

For now, the estimated reserve value for each bag is listed democratically in the catalogue as 'priceless', but it will be interesting to see what figures they will ultimately fetch. If the sensational sales that have been known to rock the art world are anything to go by, the sky's the limit.