Prostoria celebrates Zagreb modernism
In a striking series of photographs, Croatian furniture company Prostoria pays tribute to the modernist architecture of Zagreb that inspires and informs its products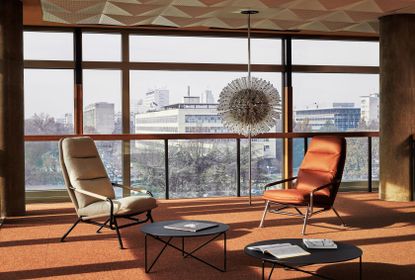 (Image credit: Marko Mihaljevic)
Few cities in the world boast a modernist architectural tradition so rich and deeply rooted as Zagreb's. The Croatian capital is a towering portfolio of grand scale, brutalist constructions, public buildings designed in the interwar modernistic style, spectacular memorials, or 'spomeniks', midcentury socialist city planning, and angular, geometric, mixed-use concrete wonders. The city's impressive modernist legacy is something that informs and inspires the creative team at Croatian furniture design brand Prostoria, shaping its approach to product design.
So much so that Prostoria devised a photography project to celebrate and synergise Zagreb's extraordinary architecture and the brand's furniture pieces. Placing particular Prostoria products in front of modernist landmarks, the images are intended to showcase the buildings' collective, inspirational role in terms of form, texture and modernist ambition.
The team's architectural highlights include: Vatroslav Lisinski Concert Hall (1958 – 1973, by Marijan Haberle, Minka Jurković and Tanja Zdvořak); the House of Socio-Political Organisations, or 'Kockica', meaning 'Little Cube' (1961 – 1968, by Ivan Vitić); the People's Assembly, now known as Zagreb City Hall (1955 – 1959, by Kazimir Ostrogović); The Workers' and People's University (1955 – 1961, by Radovan Nikšić and Ninoslav Kučan, with interiors by Benardo Bernardi); and the Romanian Pavilion at the Zagreb Fair (1956, by Ressu).
Prostoria and modernist architecture
'In many parts of the world, modernism achieved mainstream acceptance in the mid-20th century only to be rejected in favour of new architectural trends, then re-embraced as an aesthetic substratum from which contemporary individual expressions emerged,' writes Zagreb-born architect and architectural historian Maroje Mrduljaš, introducing the Prostoria project. 'For Zagreb, however, modernism has always been an undisputed and, arguably, key element in the city's urban identity.

'Perseverance has paid off,' he continues. 'Recently, Croatians witnessed the global canonisation of Zagreb, Croatian and Yugoslav modernism at the critically acclaimed exhibition "Toward a Concrete Utopia" at MoMA in New York. Enthusiasm for this kind of architecture stemmed partly from a widespread fascination with the incomplete project of building "socialism with a human face", although it was also grounded in the genuine achievements of modernist culture in architecture and design.
'Modernism refers to rationality, absence of dogmatism, openness and a willingness to research, values which all apply to the ethics and aesthetics of the architecture of the time. It is on the basis of these values that a belief matured in Zagreb during the 1950s and 1960s that there was no fundamental difference between architecture, art and design,' writes Mrduljaš.

'Prosteria's photographic series is both a visual experiment and a collage of the best works of two different epochs. The spatial framework and the stage upon which its story is told is well thought out, distanced and refined; yet the august modernist architecture of Zagreb during the 1950s and 1960s exudes an almost shocking degree of self-confidence. One encounters an extreme economy of expression, an architecture that speaks through spatial relationships and abstract forms but also through various objects: artworks, interior features, furniture. One is also impressed by the sheer boldness of the time, when architects were building a grand stage on which the future would be enacted, without submitting to general expectations.
'These monumental public institutions have more recently housed displays of Prostoria's contemporary furniture. Although modernist architecture and Prostoria's products are more than half a century apart, they complement each other, speak a similar language, form a natural bond, and are equally uncompromising,' writes Mrduljaš.
'These set designs are neither about going back in time, nor about completing a delayed future, but celebrate converging values and continuous exploration. Due to specific social priorities, the modernism of the mid-20th century has left behind impressive public architecture, outstanding public art and some exceptional examples of product design, smaller-scale projects and objects. Prostoria's products naturally belong to the world of modernist architecture, and they clearly share common values and intellectual origins.'
'However,' he adds, 'Prostoria does not create in a vacuum, but rather preserves and develops the values of the cultural environment from which it has emerged. The architecture of Zagreb's public institutions in the 1950s and 1960s meant a lot more than the individual buildings themselves: it acted as a mediator between global culture and the local context, and it changed the identity of the city by making it more open and more modern. In a similar way, Prostoria functions as a platform that allows designers to merge the ethics and aesthetics, creating products grounded in solid values.'
INFORMATION
Prosteria's photo-editorial was produced in collaboration with the Zagreb Tourist Board and public institutions involved in the project.
Art Direction: Biro Architects Photography: Marko Mihaljević, Jure Živković
prostoria.eu
Receive our daily digest of inspiration, escapism and design stories from around the world direct to your inbox