Man of the world: Moshe Safdie's 'Global Citizen' opens at the National Academy
Moshe Safdie's 'Global Citizen' opens at the National Academy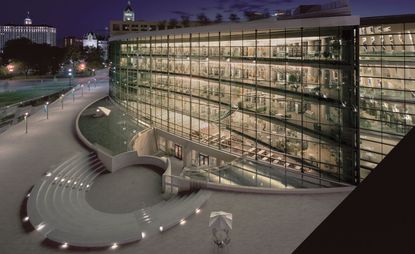 (Image credit: Timothy Hursley)
The title of the National Academy Museum's current exhibition, 'Global Citizen: The Architecture of Moshe Safdie (opens in new tab)' refers less to the jet-set ways of an architect overseeing major projects around the world (although that is certainly the case) and more to Safdie's nuanced appreciation for sites, wherever they happen to fall on the map. Born and raised in British Mandate Palestine in 1938, and later to become a Canadian, then an American immigrant, Safdie has long transcended geography, as the projects in 'Global Citizen' demonstrate.

Among the exhibition's 200 objects (comprising sketches, scale models, photographs and films), a series of Safdie's notebooks, laid open in vitrines, provide a telling glimpse into his iterative and self-critical process. 'About 50 percent of them I've done on flights,' he says, acknowledging the global nature of his practice.

Tracing its way back to Habitat 67, one of the hallmarks of his career has been a focus on social and environmental concerns. 'It's the foundation of my beliefs, both as a citizen and an architect,' he says. Much of this comes across in the exhibition, whether it's the way the Crystal Bridges Museum of American Art in Arkansas integrates into the landscape, for example, or the way his residential projects ensure access to public and private gardens. As he says in the exhibition's wall text, 'every line drawn and every design created has economic, ecological, social, behavioral, psychological, and spiritual impact'.

His firm regularly sponsors a design research fellowship aimed at addressing some of the contemporary city's most intractable problems. Next up on the agenda: the erosion of truly public spaces. As he cautions, 'Too much of the public realm is now built and maintained privately.' He roots this concern for the public domain in his life experiences around the world, citing the souks and bazaars of his childhood, and a 1953 trip through Europe that took him through what he calls 'some of the greatest public spaces – the piazzas of Italy, Galleria Vittorio Emanuele II and Trafalgar Square – before the car completely took over'.

The exhibition, designed by Nader Tehrani of the design firm NADAAA, has been updated since its 2010 launch at the National Gallery of Canada (a building Safdie designed). Next year it will travel to Boston, a city that the architect, the archetypal global citizen, calls home.
INFORMATION
'Global Citizen: The Architecture of Moshe Safdie' is on view until 10 January 2016
ADDRESS
National Academy Museum
1083 Fifth Avenue (at 89th Street)
New York, NY 10128
VIEW GOOGLE MAPS (opens in new tab)