Netzwerkarchitekten and Heike Klussmann reimagine the art of travel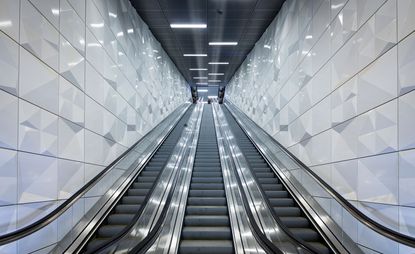 (Image credit: Joerg Hempel)
The station masters of New York, London and Budapest are the toast of our Travel & Transport issue – out now – but there was another slick station to capture our design eye that deserves closer inspection: Düsseldorf's ad-free, art-filled, perfectly pure U-Bahn line.

An unusual project by any stretch of the imagination, it stands out for three major reasons: for its collaborative conception; the cohesive vision of a common architectural language; and the complete lack of advertising thoughout.

Fifteen years and €843m in the making, the Wehrhahn metro line brought together architects, artists and engineers to create six new stations beneath the city centre, connecting the city's east and west.

The bringing together of art and architecture, design and engineering is nothing new, of course, but the way in which Berlin-based artist Heike Klussmann and Darmstadt-based architecture practice Netzwerkarchitekten approached such a collaboration was nothing short of innovative. 'Normally the construction part happens first and then the artists are commissioned. Here the architects, artists and engineers worked together from the beginning,' explains Klussmann, which accounts for the sense of cohesion and 'continuum' created.

Klussmann and Netzwekarchitekten envisioned the U-Bahn tunnel as 'an underground continuum, similar to a giant snake as it slips through the earth, widening at the respective stations before continuing on its path'. Giving that 'continuum' a physical presence underground is a concrete skin, etched on all or part of the concourse walls with expanding and contracting rhombus shapes which create a unique 'sense of spacial dynamism'.

Linking the stations to the urban context above was another matter, one addressed by five different artists – Ralf Brög, Ursula Damm, Manuel Franke, Enne Haehnle and Thomas Stricker, plus Klussmann – each of whom were responsible for the artistic direction of a different station.

None of the stations have ticketing facilities above ground. Instead, they are 'incisions' on the high street, leading down into expansive spaces through nothing but staircases. 'Generous sight lines between platform and concourse levels, clarity, easy orientation and allowing as much natural light as possible deep into the stations were the central guidelines,' explain the practice.

Ralf Brög's Heinrich-Heine-Allee station hosts an ever-changing program of noise and sound-based works, while vibrant LED screens reflect the movements of passengers at Ursula Damm's Schadowstraße station. Screens take an intergalactic slant at Thomas Sticker's stainless steel-clad Benrather Straße station, displaying 3D animations of the planets and stars.

At Pempelforter Straße, Heike Klussmann blurs the boundaries of the station through a clever interplay of geometric figures, while Enne Haehnle brings sculptural form to her poetry at Kirchplatz station in a game of abstraction and legibility. In a riot of colour, Manuel Franke's Graf-Adolf-Platz features a delicate stream of lines which carry passengers away from the street and into the platform.

The U-Bahn's impact is manifold, for the city and the way an engineering feat such as this can be tackled with artistic purpose, but also for the individuals that use it as a means of transportation. As well as getting them from east to west, it allows commuters a rare moment of respite from consumerism. Most indisputable, albeit inconspicuous, is the relationship between art and engineering. It is impossible to tell where one begins and the other ends, but suddenly it seems like a differentiation that needs not be explained.
Receive our daily digest of inspiration, escapism and design stories from around the world direct to your inbox