The China List: Yves Saint Laurent, Fashion
Wallpaper* and China's Cultural Heritage and Sustainable Development Fund (CHSDF) present China By Design—a celebration of Chinese cultural heritage and the many global creatives who have been inspired by it.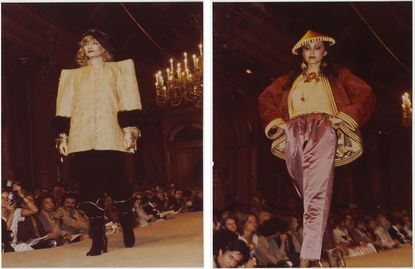 (Image credit: press)
Even though the French designer never visited China, 'Yves had loved Asian art since seeing the zen temples in Kyoto in the 1960s and collected antique Chinese objets at rue de Babylone,' writes Alice Rawsthorn in her 1996 biography. He was entranced by its mythology, translating his Oriental daydreams into his seminal 1977 Imperial China-inspired Les Chinoises haute-couture collection, featuring lustrous cone hats, glossy qipao jackets, brocade and tassel embellishments. The collection also launched the maison's controversially named fragrance Opium. Additionally, it formed the basis of the 2018 'Dreams of the Orient' exhibition at the Musée Yves Saint Laurent in Paris.
Tom Ford took the creative reigns of Yves Saint Laurent from 1999-2004. For his final A/W 2004 collection for the maison, he paid tribute to the pagoda-shoulder silhouette of the iconic 1977 collection. His own interpretation of Yves Saint Laurent's vision of China, Ford's finale included seductive and satin-saturated forms, slinky qipaos, pagoda-shoulder 'Le Smoking' jackets, lucky-red scalloped dresses and fur coats shaved like dragon scales.

INFORMATION