The future of outdoor cooking: Weber's new SmokeFire barbecue
Connected and multi-capable, this intelligent wood pellet-fired barbecue delivers distinctive smoky flavour and enables low-temperature and slow cooking, high-heat searing, smoking and grilling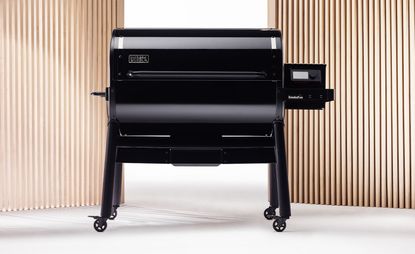 (Image credit: press)
In partnership with Weber (opens in new tab)
For decades a simple but joyously effective, steadfastly analogue collaboration of charcoal, flame and grille, the Weber barbecue is now going digital. Via ingeniously engineered heat distribution and heat direction, Weber's mission was to create a grill that made low-temperature and slow cooking easy whilst still offering the ability to sear food at high temperatures, thus creating versatile and memorable taste experiences around ribs or premium meat cuts and exotic vegetables.
With a purist aesthetic that references automobile design and industrial machinery, the SmokeFire's construction is stealthy and robust with minimalist architectural details and a gloss black, porcelain enamel finish. The sturdy construction houses a multitasking machine that effortlessly facilitates and modernises the barbecue experience without diminishing the communal pleasure of outdoor cooking.
The intelligent barbecue
How does it work? Partnering with and then acquiring a tech start-up called June, Weber created the SmokeFire as a connected cooking system that actually senses the food's cooking progress and delivers to the user, via an app, predictive, stage-by-stage notifications and services.
'The SmokeFire's connectivity was designed to inspire confidence in the consumer,' explains Alex Mecker, Weber's senior industrial designer. 'You can go straight in, having never cooked a pork shoulder or ribs before and get step-by-step instructions on prepping the food, wrapping, probing and flip timings. The app also gives advice on temperature regulation, provides a readiness countdown and an alert when it's time to pull the food off the grill.'
Weber design has certainly come a long way in the 70 years since George Stephen, then working for Weber Metal Manufacturing, a Chicago buoy-making company, made his first conversion of an old tin float. Frustrated that he couldn't get a steak cooked to his preferred taste, Stephen chopped the metal buoyancy vessel in half, poked holes in it and added a makeshift grille. The ingenious, kettle-shaped adaptation, now part of the collection at the Smithsonian, became the model for Weber's first, and now iconic, kettle barbecue and launched an outdoor cooking legacy for the world-famous American brand.
Over the years, Weber's R+D department has stayed true to its classic kettle design, but also produced various other products – smokers, charcoal grills, gas grills and electric grills. Now the brand's focus turns to compressed wood-particle pellets.
Renewable fuel source
With pellet-fired smokers already popular in backyard cuisine culture (rather than grilling, smokers also allow the slow roasting of food, infused with a wood-smoke flavour), Weber set out to create a premium pellet barbecue and smoker combination. Via ingeniously engineered heat distribution and heat direction, the SmokeFire's mission was to encourage new, low temperature and slow-cooking occasions, and create versatile and memorable taste experiences around ribs or premium meat cuts and exotic vegetables.
'From a design and performance standpoint, everything is built around the cooking process – maximising what we've seen and what we learned in charcoal and electric and gas and trying to apply that to our pellet products,' explains Mecker.
Weber's recommended pellets are Carbon Trust and FSC-certified, sourced and produced in Poland, the company's objective being to reduce its carbon footprint. The renewable energy source has the added benefit of creating a unique and smoky flavour in everything its user chooses to cook.
Weber SmokeFire and cooking for flavour
The pellet grills project started in 2018, when Weber noticed how people were seeking opportunity to get into smoking but were really unsatisfied with the options that existed. Weber identified gaps in the user experience around issues such as cleanability, temperature, range, versatility, cooking performance and even-ness. Then the team rallied around to create that first pellet grill, allowing the consumer to achieve a consistency of cooking and unparalleled flavour and the opportunity to be carbon neutral whenever they grill.
Using Flavorizer Bars, which direct grease and drips away from the burners, avoiding flare-ups and clogging, the SmokeFire delivers an even temperature, and allows the user an easily accessible cook box while still affording authentic smoked flavour thanks to the wood pellets. High heat allows outdoor chefs to sear at controlled temperatures. Performance and flavour outcomes are maximised.
To explore the myriad gastronomic possibilities that the SmokeFire enables, Weber employs a worldwide team of culinary experts across its Global Grill Academies. Weber then gathers all the ideas, techniques and regional cooking influences from its academies and inputs them into the app, furthering recipe development and a multicultural understanding of cooking.
A robust design approach
The beauty of the SmokeFire's material form lies in its connectedness, purpose, performance and competence. 'At Weber, we don't really go overboard with our styling. But we do try to emphasise function and efficiency with our design, so many of the most prominent styling elements – like the lid straps that fasten the porcelain enamel lid to the hinges – are actually primarily functional also. The design team tends to go back and forth with the engineering team, making sure that we're optimising for performance, but also finding ways to highlight elements of the construction in the styling.'
Weber takes its design cues and inspirations from a variety of sources. 'We are definitely heavily automotive-influenced,' admits Mecker. 'I think that's one of the most striking comparisons. We also take notes from fashion trends. We look at anything that has to live outdoors and face a lot of different weather conditions. 'With the SmokeFire, we were looking to make sure that we didn't make a one-dimensional product. By adding a little bit more depth and character via the layers of black, we wanted to express textural and material change.'
Weber maintains that the depth of porcelain enamel – both matt and gloss – can't be replicated. More than simple paint, the SmokeFire's glass-like finish is baked onto the metal and is capable of withstanding excessively high temperatures, extreme weather shifts and intense precipitation.
The SmokeFire Stealth is a new but integral part of the ever-evolving Weber design story. expression that is considered, effective and expertly engineered. Another outdoor icon in the making.
INFORMATION
weber.com (opens in new tab)