Light and magic: Iris Ceramica Group presents Luce by Guillermo Mariotto
Born out of a desire to reinvent, rethink and reimagine material, to throw light onto magic, Luce by Guillermo Mariotto is both classically elegant and fiercely contemporary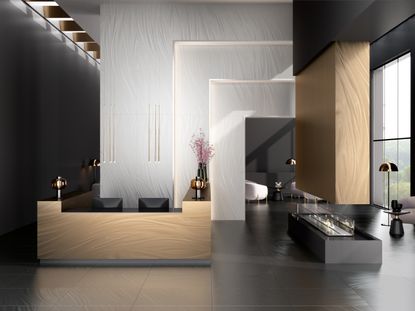 (Image credit: press)
Paid partnership with Iris Ceramica Group
A three-dimensional wall covering of unparalleled effect, this unique and innovative material combines technological know-how, noble ceramics and the creative talent of a designer who has made an alchemic connection between the communicative power of light and the reflective qualities of uniquely textured surfaces.
Iris Ceramica Group's dazzling confection focuses on the supernature of light as the undisputed star of wall coverings. On Guillermo Mariotto's colours – everything from Luce Pearl and Luce Black to Luce Blu and Luce Gold – light becomes a living, vibrant presence of ever-changing, iridescent faces, bringing sinuosity, warmth and movement to the ceramic surface.
With the help of Iris Ceramica Group's R&D division, Luce is the mysterious interpretation of a soft, rich, precious, duchesse satin and sophisticated silk effect in graceful motion. Light rays in all their complexities reveal themselves through a visual language of reflection, reverberation and chiaroscuro. Colours showcase a wealth of dynamic 3D effects that change with different points of view.
An haute couture material with a soul, processed to aesthetic and technical perfection. Luce's surfaces embody the essence of beauty, and demand to be touched.
Luce is available in two sizes – 100x100cm and the spectacularly impactful 300x100cm – 6 mm thick, and in six attractive colours, running from two variants of grey, including the paler, softer Silver and the darker Grey, towards a sophisticated Black, passing through the warm, suave Gold, the austere and profoundly elegant Blu and finally the bright and shiny Pearl.
Designed for both indoor and outdoor applications, Luce is ideal for both commercial and residential settings and external façades, architectural projects and prestigious urban redevelopments.
Luce is also available with eco-active Active Surfaces, the patented material certified to ISO standards, with antibacterial, antiviral, anti-pollution, anti-odour and self-cleaning properties.
INFORMATION
irisceramicagroup.com (opens in new tab)