ECAL at Galerie Kreo, Paris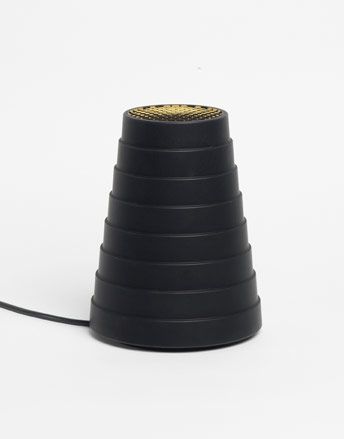 (Image credit: Julien Chavaillaz)
'Pod light' by Big-Game, the Lausanne-based design studio co-founded by ECAL tutor, Augustin Scott de Martinville, on show at Galerie Kreo
Photo by Julien Chavaillaz/ECAL, courtesy of Galerie Kreo
When making our annual edit of game-changing talent for our Graduate Directory, one school whose students consistently make the grade is ECAL (opens in new tab). The Lausanne-based college's list of tutors and alumni reads like a Who's Who of design - the Bouroullec brothers (opens in new tab), Alexis Georgacopoulos (opens in new tab) and Delphine Frey (opens in new tab), to name just a few. So it's no surprise that Paris' Galerie Kreo (opens in new tab) should be keeping it firmly in its sights.
'A New Generation of Leading Lights' is the gallery's second exhibition devoted to ECAL - the first kicking off in 2005, under the curation of Ronan Bouroullec. This time, it is showing a mix of lighting by everyone from current students and recent graduates to established names like Fabien Cappello (opens in new tab) and tutor Augustin Scott de Martinville (of Big-Game (opens in new tab)).
The show is Galerie Kreo's tribute to Pierre Keller and his visionary decade as ECAL director, during which he has shaped it into one of the world's best design schools. Much of the students' success is down to the access they are given to the industry. 'ECAL puts them in close contact with a huge network of professionals,' says the gallery's Sara Guedj. 'It also gives them all the tools to create cutting edge design.'
Galerie Kreo has selected works that are the most emblematic of the schools recent output, be it popular pieces, such as Michel Charlot (opens in new tab)'s 'Mold' lamp from 2009, or specially commissioned new works from the likes of Adrien Rivero (opens in new tab) and new ECAL director Alexis Georgacopoulos (opens in new tab). Antenna-shaped lights, shades fashioned from concrete, a machined aluminium pod - the vastly different products on show certainly prove that ECAL fosters individual thinking.
'The Bell' by future ECAL director Alexis Georgacopoulos (Pierre Keller leaves the post in June)
courtesy of Galerie Kreo
'Gradient' by Camille Blin
courtesy of Galerie Kreo
'Slim&Strong' by Delphine Frey
courtesy of Galerie Kreo
'Wireclips' by Fabien Cappello
courtesy of Galerie Kreo
'Les Souches' by Julien Renault
courtesy of Galerie Kreo
'Antenna lights' by Adrien Rovero
courtesy of Galerie Kreo
'Texalium Light' by Guillaume Schweizer
courtesy of Galerie Kreo
'Up and down' by Nicolas Le Moigne
courtesy of Galerie Kreo
'Screens' by Tomas Kral
courtesy of Galerie Kreo
ADDRESS
Galerie Kreo
31, rue Dauphine
75006 Paris, France
VIEW GOOGLE MAPS (opens in new tab)