Go on virtual holiday with Child Studio's beach escape
Child Studio teams up with British skincare brand 'Plenaire' to realise a rendered beach resort with wellbeing and meditation in mind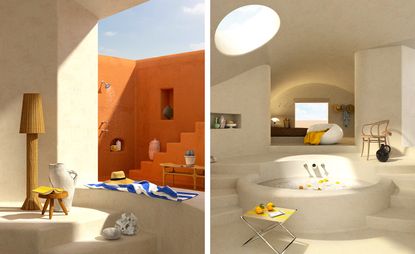 (Image credit: TBC)
Many of us are not expecting to see a beach for a while, so London-based Child Studio has bought the seaside to us. In its lockdown project, Casa Plenaire, the duo have created an imaginary fantasy summer hideaway.

Keeping self care and wellbeing at the core of the initiative, Child Studio, made up of Che Huang and Alexy Ko, have joined forces with sustainable British skincare brand 'Plenaire' (translating to in the open air) for this rendered retreat. Child Studio works within the realms of spatial design, interior design and art direction, and for Casa Plenaire the team has developed a cinematic narrative with a 'collage-like' set of rooms, that appear to be lived-in with open books and the shower turned on.

The architectural folds of the paradise are inspired by archetypal villas of Balearic islands and Santorini houses – archways and undulating sun kissed spots, while peppering the rooms are midcentury pieces by Pierre Paulin, Eero Aarnio, and Greta von Nessen.
'The concept was born in response to the current uncertain times, where we find ourselves confined to our homes. We dream about far-away destinations, constructing stories from the personal collection of memories and desires,' explain Huang and Kos. The virtual escape holds a calming palette, sandy walls and ceilings plus a clear blue sky – more meditative energy for our busy minds.

With our next trips and travel seeming far off, Child Studio has bought the sun, sea and sand a little closer in reach – 'Casa Plenaire is designed to evoke the memories of a perfect holiday' – we're ready to pack our virtual bags.