Celebrate 50 years of Smiley culture
As Smiley marks five decades with new iterations of the iconic logo, retail takeovers, and creative collaborations to spread the joy, we look back on how it all began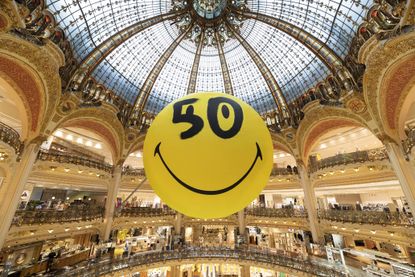 (Image credit: © Paul Blind)
In partnership with Smiley
Predating the emoticon by several decades, the yellow Smiley ideogram and its joyfully ubiquitous, graphic positivity span pop culture and advertising, home design and beauty, comic books and streetwear. It's a universal countercultural icon with a message of hope that inspires and influences across the globe, its design continually reinvented, reimagined and redefined for each generation.
Now, as Smiley turns 50 in 2022, street artist André Saraiva has been commissioned to create a new iteration, and Sarah Andelman, co-founder of Parisian concept store Colette, is curating more than 50 creative partnerships spanning fashion, design, beauty and consumer goods, and employing the creative talents of brands including Raf Simons, Sandro, Karl Lagerfeld, Market, Reebok and Dsquared2.
How it all began
Trademarked 50 years ago by French journalist Franklin Loufrani, and used as a grinning endorsement of good news stories in the France Soir newspaper, the Smiley quickly became one of most instantly recognisable icons in design.
It was adopted first by hippies in the 1970s, then US new wave band Talking Heads used the Smiley on the sleeve of its 1977 'Psycho Killer' single. It was later co-opted as the unofficial logo of the UK's Acid House movement during the 1980s, more recently making cameos in contemporary art by Banksy, Takashi Murakami and James Cauty.
In 1996 Nicolas Loufrani, son of Franklin, saw a huge opportunity to bring Smiley into the digital world. He created a whole new way of communicating, using a variety of facial expressions on the original Smiley to convey emotions.
His emoticons are now used by billions of people around the world every day, and are currently featuring in a new series of animated shorts on Instagram to help kids better understand their feelings and learn about emotional intelligence.
Pursuing Smiley's goal to make the world a happier, kinder, more conscious place, Nicolas Loufrani created Smiley Movement in 2017.

The non-profit community aims to inspire positive change in society, addressing urgent societal and environmental problems. It provides a cross-media platform of news, videos, events and awards that connect the non-profit sector to the broader public.
Today, The Smiley Company, of which Nicolas Loufrani is CEO, is one of the world's top global licensing enterprises and extends across fashion and homewares, through to food and beverage and continues to embrace collaboration as an opportunity to spread this important message.
In particular, the brand has increased its emphasis on streetwear. Its success in this sector is partly thanks to a long-term collaboration with LA-based brand Market, which has led to products including the Market Smiley Basketball, now a street culture icon.
Smiley also has streetwear collaborations with major brands, such as a sneaker with Reebok, a bomber jacket with Schott, caps with New Era, a backpack with Eastpak, denim with Lee, a women's streetwear collection with By Samii Ryan, and kids' sportswear with Puma.
It's Smiley's international community of followers in the streetwear arena that inspired the company to select Saraiva to develop its 50th-anniversary global street art manifesto for positivity campaign.
Smiley turns 50: creative collaborations for 2022
For 2022, Smiley will bring back its original message of 'Take the Time to Smile', which is as relevant as ever, spreading positivity through global activations, brand collaborations and feelgood experiences. More than an icon and brand, Smiley is a spirit and philosophy and a reminder of how powerful a smile can be.
The 50th birthday series of collaborations curated by Colette's Adelman will see each collaborator design a unique iteration of their most iconic products, referencing the new reinterpretation of the Smiley logo by Saraiva.
The cross-category range of products includes fashion and accessories from Raf Simons, Palm Angels, Moschino and Lee Jeans. There are also offerings from cult sports and streetwear brands Champion, Reebok, Market, Eastpak and New Era. A beauty edit comes courtesy of 212 by Carolina Herrera, and Ciaté.
Beach brands Havaianas and Vilebrequin acknowledge the Smiley's warm and sunny disposition. And Happy Plugs and Casetify will pay homage to Smiley's heritage in music and technology. The Skateroom, Yellowpop and Seletti will collaborate with Smiley on a range of design products for the home.
The products will be displayed and sold as part of Smiley takeovers in some of the world's most influential department stores and retail chains.
These include Galeries Lafayette stores globally, Nordstrom Special Project stores in the US, Hanwha Galleria in South Korea, Aizel in Russia, El Palacio de Hierro in Mexico, Shopping Cidade Jardim in Brazil, and Urban Outfitters in Europe.
Also marking the anniversary, Assouline has published an illustrated book Smiley: 50 Years of Good News, that tells Smiley's five decades-long story. The book will show how the icon of optimism has been embraced by so many artists, social movements, and designers, all hoping to inspire more people to believe in a better world.
'After the challenging last couple of years, what better way to navigate out of these times than with this campaign that aims to reverse a global smile deficit, spread positivity and fill the world with smiles in 2022,' says Nicolas Loufrani. 'This campaign proves that Smiley's unique, creative and positive symbolism continues to inspire some of the most influential artists, brands and tastemakers across the globe.'
Watch a video animation on 50 Years of Smiley, and see more images
INFORMATION
Watch 50 Years of Smiley – An Animated History of Defiant Optimism on YouTube
Receive our daily digest of inspiration, escapism and design stories from around the world direct to your inbox