Classroom style: Schemata Architects design furniture for a school in Tokyo
Schemata Architects create new classroom furniture for a school in Tokyo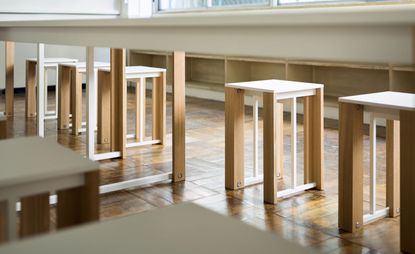 (Image credit: Takumi Ota)
Set up in 2013 by a group of architects specialising in architectural renovation, Tokyo's Renova Ring is a school dedicated to improving public spaces across Japan. With its headquarters - Studio Renova Ring - suitably located in an old junior high school building in Tokyo's Ueno district, the school focuses on community-based town planning projects and educating its students in the art of urban regeneration.
This year, Schemata Architects were tasked with furnishing the school's workshop at its Tokyo headquarters. 'They asked us to design their flagship studio, with a hope to gain wider recognition,' says Schemata's founder Jo Nagasaka, who, inspired by the existing school building, set about designing his take on traditional classroom furniture.
'We designed furniture with a distinct silhouette that reminds one of 'classroom' furniture,' explains Nagasaka, who worked with Tokyo-based manufacturers Neufurniture Works to realise the pieces. With legs made from Japanese ash supported by white I-shaped steel frames and tops, the utilitarian collection comprises basic desks and matching stools that can be stacked one on top of the other to create compositions that recall the open frameworks used across many of the firm's projects.
Of course, this is not the Japanese firm's first foray into product design, previous projects have included a series of wood and resin pieces for British manufacturer Established & Sons as well as an outdoor chair made in collaboration with Hancock for our very own Handmade* exhibition in 2014.
INFORMATION
For more information visit Renova Ring's website (opens in new tab)
Photography by Takumi Ota
ADDRESS
3331 Arts Chiyoda
B111 / 6-11-14 Soto-Kanda
Chiyoda-ku, Tokyo
VIEW GOOGLE MAPS (opens in new tab)