Kohler brought art and colour to bathroom design at Milan Design Week 2023
Kohler presented an immersive installation that showcased artist collaborations, a new limited-edition global product collection, and an aerial sculpture by artist Janet Echelman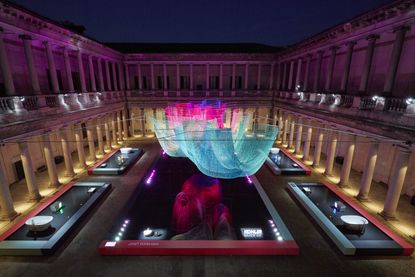 (Image credit: Kohler Co)
In partnership with Kohler
Global brand Kohler Co celebrated its 150th year with a new Fuorisalone installation, 'The Creator's Journey', for presentation during Milan Design Week 2023. The project saw the global leader in the design, innovation and manufacture of kitchen and bath products pair industrial design with art.
Four contemporary female artists from four countries have between them created a limited-edition collection of 12 new Artist Editions Kohler products for the bathroom. They were given carte blanche to bring their individual visual expression to the 'Numi 2.0' smart toilet, 'Brazn' sink, and 'Brazn' bathtub. Each product within the collection will be offered in a quantity of 150, honouring Kohler's anniversary year.
The artists were Brazil's Ananda Nahú, a painter, muralist, and visual artist; Ziling Wang, from China, who explored how humans perceive the structure of their external surroundings by reorganising the form of painting in order to explore the balance and forms manifested in nature; Pushpa Kumari, from India, who visualises a world energised by culture, heritage, observation, and intuitive sensitivity using only a pen and ink on paper; and the USA's Elle, considered one of the world's top street artists.
'Kohler is dedicated to creating a space for the cross-section of artistry and craftsmanship in our industry,' said Laura Kohler, chief sustainability and diversity officer for Kohler Co. 'This new Artist Editions collection celebrates women of exceptional talent and diverse backgrounds.'
Kohler's Artist Editions products date back nearly four decades and bring beauty to everyday rituals, pushing boundaries of decorative processes and material sets, helping consumers express personal style in their spaces. Inspired by marrying visual art with manufacturing craftsmanship, Artist Editions sinks, bathtubs, and toilets are adorned with textures, patterns, abstract illustrations, and picturesque landscapes. The offering also showcased Kohler's innovative use of specialty glazes.
Artist Janet Echelman presents Noli Timere at Palazzo del Senato
Alongside the new Artist Editions products, Kohler's presentation in Milan also highlighted a breathtaking aerial sculpture, Noli Timere, by Janet Echelman. The artist, who participated in Kohler's Arts/Industry residency programme more than two decades ago, has also partnered with the brand on an Artist Editions vessel sink entitled '18.02', which honours the dynamic nature of water and is part of the Milan display.
Visitors to Kohler's installation embarked on their own 'Creator's Journey' thanks to an immersive digital experience that allowed them to bring art to life through their movements in space. As colours, patterns and shapes surrounded guests in the Creator room, they became artists themselves, manipulating the creative overlay on Kohler's 'Numi 2.0' smart toilet.
Explore more at Milan Design Week 2023 | Studio KOHLER