Grohe Spa: the healing power of water comes home
Grohe showed its revitalised bathroom collection, Grohe Spa, at Milan Design Week 2023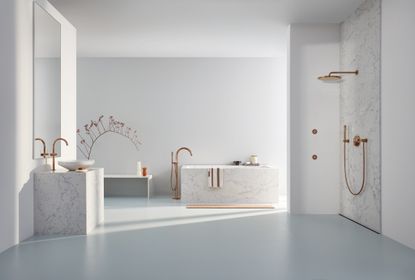 (Image credit: Grohe)
In partnership with Grohe
Guided by a belief in water as the source of vital energy, with uniquely cleansing, invigorating and healing properties, bathroom fittings specialist Grohe revitalised its Grohe Spa collection for Milan Design Week 2023.
The etymology of the word 'spa '– which originates from 'Salus Per Aquam', Latin for 'health through water' – provided inspiration for a concept that is a curation of Grohe's premium products to create luxurious wellbeing areas for soothing and immersive water rituals.
Grohe's designers and developers regard the bathroom as a place for precious moments of indulgent bliss, a source of hidden strength and renewed energy. Increasingly, the humble bathroom is evolving into a home spa and holistic experience, a zone of regeneration.
The Grohe Spa portfolio ranges from elaborate tap collections, customisable ceiling showers and intricate ceramics to complementary accessories. Progressive designs are combined with carefully selected colours, materials and finishes to create luxurious home spa experiences.
The Grohe Atrio and Allure Brilliant Private Collections, in particular, present customers with a choice of different colour, material, finish and handle options to help them design one-of-a-kind bathroom pieces. To achieve a high-quality, marble-style finish, Grohe has partnered with Caesarstone, the global pioneer of premium countertop surfaces, to craft tap handles in the brand's timeless and durable quartz designs. Caesarstone surfaces can also be combined with Grohe Spa Private Collections.
The Grohe Spa Aqua Rainshower Ceiling Shower Modules allow the shower experience to be customised to the user's personal preferences. Sophisticated features like the haptic feedback on the Grohe Allure basin mixer make the brand's passion for water even more tangible. The Grohe Perfect Match principle ensures that the various products match in form and function – for a bathroom experience that is as unique as it is easy to turn from concept into reality.
Grohe Spa products sit at the intersection of premium quality, cutting-edge technology, unrivalled precision, and progressive design,' explains designer Patrick Speck responsible for the Grohe design. 'We are driven by a spirit of redefining what is possible, using industry-leading production techniques like 3D metal-printing to create exclusive designs and the ultimate water experience for the bathroom.'
Unique Grohe Spa experience at Milan Design Week
Visitors were able to experience Grohe Spa first-hand at Milan Design Week (18 – 23 April 2023), in a celebration of true passion for water; a water surface installation reflected the architecture of prestigious art museum the Pinacoteca di Brera, while expressing the brand's overall 'health through water' concept.
The exhibition was complemented by innovative bathroom designs occupying four immersive cubes nestled within the space, each expressing one of the brand's four tiers: exclusive 3D metal-printed products; bespoke 'Atrio' and 'Allure Brilliant Private Collections'; trend-leading 'Grohe Colors'; and a multisensory experience for the brand's shower solutions.
The installation was open to the public on 18, 19, 23 April from 10am-7pm CET; 20 April from 12pm-5pm CET; 21, 22 April from 10am-10pm CET.