Wadi AlFann, AlUla's new land art destination, is stirring creativity in the desert
Wadi AlFann – Saudi Arabia's Valley of the Arts – hints at the scale of its ambition with an event in the desert for curators, artists and cultural leaders ahead of the completion of its site and first five artworks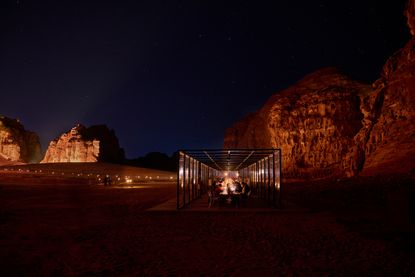 (Image credit: Courtesy of the Royal Commission for AlUla)
In partnership with Wadi AlFann
Wadi AlFann, a 65 sq km 'Valley of the Arts' in the desert of AlUla, north-west Saudi Arabia, is set to be a major new cultural destination for art, design and performance. The project will set grand-scale art commissions against the dramatic natural backdrop of AlUla's dunes and heritage sites.
Its first five commissions – due to be unveiled from 2024 onwards – are by artists Manal AlDowayan and Ahmed Mater, both of Saudi Arabia, and USA-based Agnes Denes, Michael Heizer, and James Turrell.
Wadi AlFann's gathering of art-world minds
As a prelude to the first artworks' unveiling, Wadi AlFann invited guests to visit its location for an immersive experience in the desert, where the colours and nature of the surrounding landscape were referenced in the event's tablescape.
Rosemary, moringa and kapok bush were placed between rocks to create a dialogue with the natural elements of the Wadi AlFann valley. Handmade local pottery vases referenced the darker colours of the sky. Artisans of AlUla's crafts centre Madrasat Addeera embroidered rock art animals and floral motifs on the napkins, nodding to the legacy of local artists past and present. Fresh oranges and lemons were placed as ornaments on the table, to highlight the local abundance of citrus.
Among the event's 150 guests were art industry experts from across the world: Alice Querin and Jeanne Rethacker of the Louvre Abu Dhabi; Catherine Futter, director of Curatorial Affairs at the Brooklyn Museum; independent curator Daniel Moynihan; Southern & Partners' founder Graham Southern; Eike Dieter Schmidt, director of the Uffizi, Florence; Zeina Arida, director of Mathaf: Arab Museum of Modern Art in Doha; Othman Lazraq, president of the Museum of African Contemporary Art Al Maaden; and Dr Pradeep Sharma, director of Arts, Culture and Heritage at the Salama bint Hamdan Al Nahyan Foundation.
Paying homage to the region's gastronomic and agricultural heritage, the dinner's three-course menu – Saudi cuisine with a contemporary twist – was created using ingredients sourced from local farmers and growers. Saudi chef Naessah Al Otaishan designed the menu, which was conceptualised by Deema Alsehli, co-founder of OKTO, part of the Contemporary Food Company (Cofoco) which also owns oasis-to-table restaurant Tawlet Fayza in AlUla's AlJadidah Village. The meal featured Saudi delicacies like jareesh (crushed wheat in a rich tomato sauce), keshna (onions cooked with dry black lemons), gersan (a thin flat bread traditionally made by women in AlUla) and muhallebia for dessert using local native blood oranges.
There were specially commissioned performances by poet Dr Afra Atiq and multidisciplinary artist Mohammad AlFaraj, with music by experimental oud player Hosny and DJ duo Al Turk Twins.
Atiq presented a poetic love letter in three parts – speaking of the beauty of the local landscape at different times of day – that she had created during her participation in the second edition of the AlUla Artist Residency Programme. AlFaraj's performance combined human interaction, film and sound. He guided guests through the desert landscape, inviting them to pick up rocks and click them together in a rhythmic pattern as they walked; and a film projected onto the canyon-side highlighted the connection between people of today and AlUla's rich history.
'Wadi AlFann is unprecedented in its ambition'
The evening set the tone for what promises to be an impressive grand unveiling of Wadi AlFann's debut artworks. 'This visionary destination will build a vibrant and prosperous local cultural economy, forging pathways for the people of AlUla to unlock creative potential and be architects of the region's future,' said Nora Aldabal, executive director of Arts and Creative Industries, Royal Commission for AlUla.
Adds curator, lecturer and art historian Iwona Blazwick, who is leading Wadi AlFann's curatorial vision: 'Wadi AlFann is unprecedented in its ambition, a world-leading platform enabling remarkable artists to create the most significant works of their lifetimes. It will set a new global example for experiencing art in dialogue with nature, celebrating the human creativity that unites communities across the world and inspiring current and future generations of artists. A display of such epic scale, set in a terrain as monumental as the AlUla desert, has the potential to shape the course of art history in real time.'