Dung and politics: Mawande Ka Zenzile at Stevenson Gallery, Johannesburg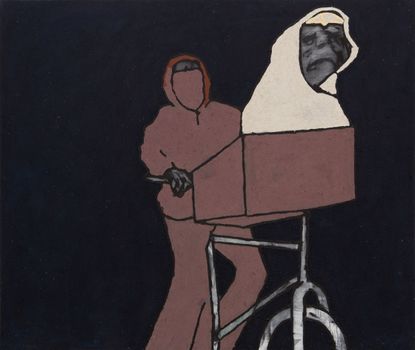 (Image credit: TBC)
Currently showing at Johannesburg's Stevenson Gallery, 'Mawande Ka Zenzile' is the eponymous South African artist's first solo show in the city; one through which Ka Zenzile aims to interrogate a number of ever-present political and social issues – racism, capitalism and colonialism.

'Primarily, my artistic process is driven by a desire to make or realise artistic forms; this new body of work engages my practice of using art as a medium to think and to connect dots,' explains the artist. This exhibition sees the continuation of Ka Zenzile's use of cultural references to confront history, economic systems and political ideologies. 'For me, art becomes a space for contemplation where new allegories meet the old ones and out of this fusion I develop different ways to expose how power works in our society and histories,' he says.

Ka Zenkile uses iconographic images by borrowing them from their original context to convey hidden meanings about the complex nature of our society – incorporating materials such as cow dung and earth on canvas, sticks, stones and mud bricks across a body of work consisting of painting, sculpture and performances (including music by Larissa Johnson, among others).

Prior to the current show, Ka Zenzile previously won the 2014 Michaelis Prize from the prestigious Michaelis School of Fine Art in Cape Town and has since exhibited globally.
INFORMATION
'Mawande Ka Zenzile' is on view until 11 March. For more information, visit the Stevenson Gallery's website (opens in new tab)
ADDRESS
Stevenson Gallery
62 Juta Street
Johannesburg, 2001
VIEW GOOGLE MAPS (opens in new tab)
Daniel Scheffler is a storyteller for The New York Times and others. He has a travel podcast with iHeart Media called Everywhere (opens in new tab) and a Substack newsletter, Withoutmaps (opens in new tab), where he shares all his wild ways. He lives in New York with his husband and their pup.