Lawrence Weiner exhibition, New York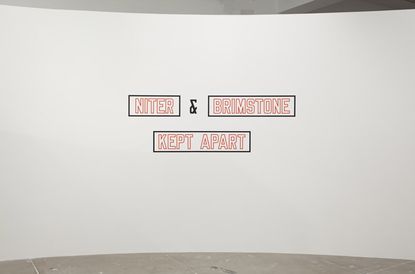 (Image credit: courtesy of Lawrence Weiner and Marian Goodman Gallery)
One of the central figures in the formation of conceptual art in the 1960s, Lawrence Weiner became known for his acutely succinct integration of language within material constructs.
The wall installations that have been a primary medium for Weiner since the 1970s consist solely of words in a nondescript lettering painted on walls, and it is these, along with a series of drawings, that the New York- and Amsterdam-based artist is currently presenting in an exhibition at New York's Marian Goodman Gallery until the end of January.
Showcased in the North Gallery are five works that float on a curvilinear constructed wall. While further a-field in the South Gallery, a single large work is spread out on its floor.
To round things off, 'Gyroscopically Speaking' - a new drawing series on paper and DVD cartoon - can be seen from the North Gallery Viewing Room.
Installation view from left to right:
'And & So It Is & So It Was - Placed & So It Is / Moved & So It Is / Tilted & So It Is / Obscured & So It Is / Placed & So It Was / Moved & So It Was / Tilted & So It Was / Obscured & So It Was' 2003
'Niter & Brimstone Kept Apart', 1993
'Le Sable Fn Le Sable Gros Le Sable Chaud Brought To Rest At The Same Time & The Same Point & Left To Disperse After Time', 2008
'Every Which Way + Up', 2010'
Installation view from left to right:
'Taken From The Wind & Bolted To The Ground', 2009
'And & So It Was / Moved & So It Was / Tilted & So It Was / Obscured & So It Is / Placed & So It Was / Moved & So It Was / Tilted & So It Was / Obscured & So It Was', 2003
ADDRESS
Marian Goodman Gallery

24 West 57th Street

New York