Into the Maze: Tobias Rehberger's installation for LG OLED dazzles at Frieze London
Spatial and optical illusions abound as you enter Tobias Rehberger's eye-boggling lounge for LG OLED at Frieze London 2022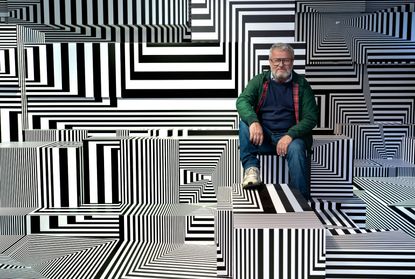 (Image credit: courtesy LG)
While Frieze lounges have traditionally offered an elegant yet nondescript spot of relaxation for well-heeled fairgoers, in recent years LG Electronics ('LG') has led the charge in creating a different kind of lounge, open to all and offering immersive experiences by leading creatives who leverage its latest OLED technology to push the boundaries of art and technology.
Following collaborations with Damien Hirst, Kevin McCoy, Anish Kapoor and Barry X Ball, LG OLED is now teaming up with German artist Tobias Rehberger for its Frieze London lounge. Titled Into the Maze, Rehberger's installation in the lounge defies routine expectations of art fair spaces, presenting itself as an immersive labyrinth that toys with gravity and perception. 'A maze is something where you get lost,' explains the artist as he shows Wallpaper* around the lounge on preview day. 'Here, what gets lost is the distinction between object and projection, between the screen and physical space, between the two-dimensional and three-dimensional.'
The lounge walls and floor are populated with rectilinear forms that bear perpendicular black-and-white stripes. The line between vertical and horizontal surfaces is blurred, tempting us to walk up the walls as though we are characters in Christopher Nolan's Inception. Though distinctively contemporary, the pattern also pays homage to dazzle painting, a camouflage technique that British artists developed for battleships during the First World War. This tradition has inspired Rehberger's art since 2009, when he created a dazzle-pattern cafeteria that won him the Golden Lion at the Venice Biennale the same year.
'Camouflage is such a fantastic paradox,' Rehberger reflects. 'It uses such loud and strong visual language, but to disguise what you shouldn't be looking at, or to make sure that you won't see something even if you do look at it. It's the opposite of the idea of visual art. Which is why I think dazzle painting works best not in an exhibition space, but in a space with another function – in this case a lounge.'
A pair of LG SIGNATURE OLED TV R – the world's first and only rollable TV – is cleverly integrated into Rehberger's Frieze London installation, complemented by three regular OLED TVs. At times they display videos that offer further spatial optical illusions, at other times they return to the patterns of the walls behind them. Their judicious placement enhances the hypnotic effects of Into the Maze, while leaving us all the more impressed by the rollable OLED TV's strikingly slim form factor. Recalling Arthur C Clarke, who once posited that any sufficiently advanced technology is indistinguishable from magic, Rehberger says, 'I hope I gave it another layer of magic.'
The otherwise rectilinear space is punctuated with flashes of highlighter orange and magenta, which aligns with the artist's philosophy. 'I always like to use these devices to disturb the rhythm,' he explains as he points at a rectangular patch of orange. 'When you look at this orange from here, it almost looks like it's flying. You don't really understand if it's part of this volume. I always believe in interruption, this moment of bringing in something else.'
The pulsating soundtrack – excerpted from 'NYX', which is named after the ancient Greek goddess of the night – likewise adds to our sense of awe, and encourages us to take a moment to lose ourselves in Rehberger's world. It is the work of German DJ Sven Väth, Rehberger's old friend and recurring collaborator. 'He released a new record when I was making the video for these screens,' says the artist, 'I love the rhythm, and how abstract it is, so I asked if I could use it.' The admiration is mutual: so fond is Väth of Rehberger's work that he subsequently invited the artist to create a full-length video for the song.
Ultimately, Rehberger hopes that Into the Maze will offer visitors a moment of pause in an art fair environment that can often feel hectic and relentless: 'The best way to experience this installation is to just hang out – take the time to view the screens, understand the work, and just be present,' he advises.
The installation aligns with another major career moment for Rehberger, who unveils the set design for a stage adaptation of Luis Buñuel's The Exterminating Angel at Volkstheater Wien on 14 October. It is the artist's first project in this realm, and involves a rotating stage – which he also describes as a maze – that took one and a half years to develop. It would seem that the world of theatre, too, shares the art world's enthusiasm for Rehberger's ability to dazzle.
INFORMATION
'Into the Maze' is on view at the LG OLED Lounge during Frieze London, until 16 October 2022, frieze.com; lgoledart.com; galleriacontinua.com
TF has been editor of Wallpaper* since December 2020. He is responsible for our monthly print magazine, planning, commissioning, editing and writing long-lead content across all our content pillars. He also plays a leading role in multi-channel editorial franchises, such as our annual Design Awards, Guest Editor takeovers and Next Generation series. He aims to create world-class, visually-driven content while championing diversity, international representation and social impact. TF joined Wallpaper* as an intern in January 2013, and served as its commissioning editor from 2017-20, winning a 30 under 30 New Talent Award from the Professional Publishers' Association. Born and raised in Hong Kong, he holds an undergraduate degree in history from Princeton University.