Eva Jospin and Ruinart hit New York with a cardboard exhibition
In New York during Frieze Week 2023, artist Eva Jospin and Ruinart invite you to experience the richness of the Champagne region through an immersive cardboard exhibition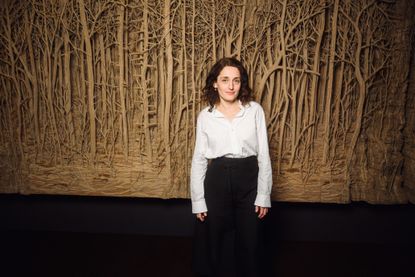 (Image credit: Jean Picon)
In partnership with Ruinart
Heading to New York for Frieze Week 2023 with an immersive cardboard landscape are champagne house Ruinart and French artist Eva Jospin. The latest artist commissioned by the house for its annual Carte Blanche 2023 series, Eva Jospin has created PROMENADE(S), an installation that evokes the richness of the Champagne region, the terroir of Maison Ruinart and the beauty of winemaking gestures passed on down generations.
While a preview of the installation will be on view within the Frieze fair itself, the exhibition showcasing PROMENADE(S), from 19 – 31 May, will be held in Ruinart's dedicated space, Maison 1729, near The High Line, at 500 West 22nd Street.
Exploring the Champagne region and the know-how transmitted via its earth and people, the installation touches on everything from the coronation of French kings in Reims Cathedral and the ennoblement of the Ruinart family under Charles X to the underground world of the Crayères (chalk quarries transformed into cellars), the roots and interlacing of vines in the earth, and Ruinart's biodiversity programme.
Constructed mostly of cardboard, the artist's favourite medium, PROMENADE(S) takes the form of a collection of landscapes, hauts-reliefs, drawings and embroideries, each articulated around a 'Carmontelle' – a kind of unfurling frieze. Drawn on paper, the frieze tells a story without words, recounting, in filigree detail, the links between the underground worlds of the Crayères and the vineyard, between nature and architecture, and between the gestures emblematic of the artist in her studio and those who make champagne – from the pruning of the vines to the riddling of the bottles.
It was during the course of her research for the project that Eva Jospin became interested in the history of the Carmontelle. The device – which borrows its name from the gardener, painter and draughtsman Louis Carrogis Carmontelle (1717-1806) – consists of a roll of paper stretched between two cylinders. It originally held paintings, sometimes backlit, representing bucolic scenes populated by characters. This landscape unfurled with the turn of a small crank.
The artist adapts the principle here to create a panorama recalling her impressions of the Montagne de Reims, the region where Ruinart is based. As the common thread weaving together the works of her commission, the Carmontelle retraces the different places she visited, juxtaposing the various strata, from underground spaces to aerial worlds, from the roots to the sky.
As part of her commission, Eva Jospin has also created a wooden case for a limited edition Jeroboam of Blanc de Blancs. Custom-made, and fastened by leather straps, the case opens onto the scene of a Crayère in miniature, sculpted out of layers of cardboard. The bottle is set within this recessed landscape, a metaphor for the making of champagne and its fermentation sheltered from light.
Limited to 25 signed and numbered pieces, this special edition is being presented during the art fairs with which the maison partners, including Frieze New York.
Visit PROMENADE(S) by Eva Jospin for Ruinart at Maison 1729, 500 West 22nd Street, NYC, 19 to 31 May 2023