Tunnel vision: Herman Kuijer's new light installations for two Dutch underpasses
Herman Kuijer creates two multicoloured, site-specific, public light installations for a town in Holland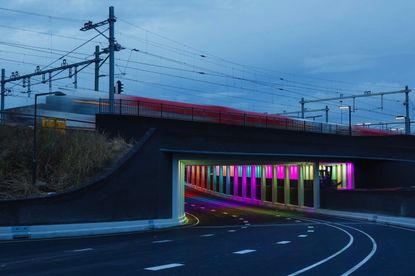 (Image credit: TBC)
Lighting up the winter gloom, a set of new site-specific works by light designer Herman Kuijer were unveiled last week in the Dutch town of Zutphen. The two lighting installations, located within two different underpasses that connect Zutphen's traditional town centre with a new area next to the river IJssel, were conceived as a way of creating a safe, sustainable and functional access to the city.

Commissioned by Holland's ProRail in collaboration with the City of Zutphen, Kuijer's new works project floating rainbows of colour onto the underpasses' concrete walls that mimic the movement of the nearby river.
'It was a great challenge to work in this specific urban context where aesthetics are paired with accessibility and the safety of the user,' explains Kuijer. 'My task was to create a sustainable work to allow people to pass safely through and also experience the aesthetic quality of the light. Improving the public domain is a continuous challenge in the Netherlands.'
Like much of Kuijer's work, the installations use simple bands of colour to create an immersive experience. 'We selected Herman Kuijer for his proven expertise in realising light as a form of art and his vision to enlighten the tunnel and give travellers a subtle and uplifting experience upon entering and leaving,' says Edwin Koning of Gemeente Zutphen.