Rifat Chadirji explores Iraqi architecture and identity at Columbia University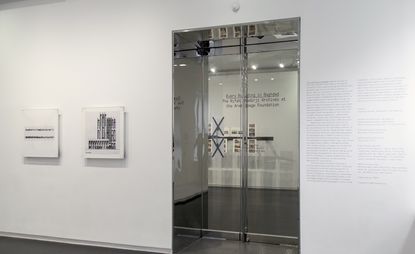 (Image credit: Rifat Chadirji)
When Mark Wasiuta, director of exhibitions at Columbia University's Graduate School of Architecture, Planning and Preservation (GSAPP), visited the Arab Image Foundation in Beirut in 2013, he stumbled upon an unparalleled architectural and photographic archive.

One-hundred-thousand images of Iraq, taken by architect Rifat Chadirji – primarily of Baghdad and the 96 buildings he built there from the 1950s until the 1980s – revealed a city in flux. Chadirji's Baghdad reflected the same complexities and struggles inherent in his own work – namely how to embrace and combine modernism and the Iraqi identity.

Three years later, 'Every Building in Baghdad: the Rifat Chadirji Archives at the Arab Image Foundation', showing at Columbia's Arthur Ross Architecture Gallery, offers up ghosts of Baghdad's past and reflections on its future through a carefully curated selection of Chadirji's oeuvre. The images, on loan from the Foundation, are divided between the architect's photos of his own buildings and his street scenes of Baghdad's daily rituals.

The photographs are arranged simply to 'produce a strong encounter with the documents', says Wasiuta, who curated the exhibition with Florencia Alvarez Pacheco and Adam Bandler. In the small rectangular gallery space, cantilevered arms hold photographs off two walls – one displaying images of Chadirji's buildings, and the other scenes of city life.

Unsurprisingly, for an architect who was jailed by the Iraqi regime in 1978 and had his Monument to the Unknown Soldier in Firdos Square (commissioned by Abd al-Karim Qasim in 1958) destroyed by Saddam in 1980 and replaced by a statue of himself, Chadirji was obsessed with documenting his own work.

But as a co-ordinator of the new Baghdad master plan, he also lamented the loss of architectural heritage inherent therein. Alongside the plethora of post-1958 Revolution-era colleges, factories and communications headquarters – many of which he designed – he also photographed demolition sites, where Baghdad's historic buildlings were sacrificed for a brave new world.

In Chadirji's photographs, which often have an unstaged and spontaneous feel, Wasiuta sees a 'grim clairvoyance'. With recent memories of the Revolution and various coups and regime changes that followed, 'Chadirji believed that his buildings wouldn't last. Photographing them was a way to claim them and keep them'; and, one senses from the intimacy of the images, a way to document the essence of a city he loved, but was obliged to flee.

A meditation on impermanence, destruction and Iraqi identity wrapped within the context of Baghdad's great modernist moment, the exhibition evokes reflections on the city's fragile beauty and ongoing vulnerability.
INFORMATION
'Every Building in Baghdad: the Rifat Chadirji Archives at the Arab Image Foundation' is on view until 14 May. For more information, visit GSAPP Exhibitions' website (opens in new tab)
ADDRESS
Arthur Ross Architecture Gallery
GSAPP
1172 Amsterdam Avenue
New York, NY 10027
VIEW GOOGLE MAPS (opens in new tab)