Mixed use: new London live/work scheme inspired by terrace houses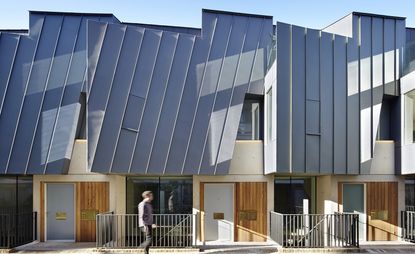 (Image credit: Jack Hobhouse)
Godson Street, designed by London-based architects Edgley Design, is the latest mixed-use development to answer the question of the ultimate work/life balance
Responding to the increasing demand for live/work spaces for the capital's entrepreneurs and creatives, London architects Edgley Design have reinterpreted the typology in a new mixed use commercial and residential development in Islington.

Completed earlier this year, the RIBA London award-winning Godson Street development in London was the outcome of a joint community venture between director of Edgley Design Jake Edgley, CKS partnership head Chris Joannou and Spaced Out Ltd director James Engel. Taking the form of a typical terrace arrangement, the new development pays homage to the Georgian properties that once inhabited the plot.

The residential element is composed of five duplexes, each of which is supplied with a slightly unusual, reversed interior programme, wrapped around the commercial units. Workspaces are sandwiched on the ground level, between the two bedrooms in the basement and living spaces nestled on the top floor.

All of the properties within the 1,015 sq m development boast 'stripped back aesthetics'; commercial areas specifically designed for functionality and practicality, featuring polished concrete floors and raw plywood staircases.

Externally, the commercial units take the form of large concrete monolithic blocks rising from the basements and functioning as supporting 'pedestals' to the residential elements above. These upper spaces are wrapped in pre-patinated zinc and fitted with large glazed windows, positioned strategically on each property's rear. A light well situated at the front ensures all interior spaces receive a healthy dose of sunlight. Meanwhile, the windows on the front facade are equipped with a metal solar mesh interlayer, conveniently protecting from unwanted views from neighbouring gardens.
In the residential element of the properties, the duplex's bedrooms are placed in the basement for privacy, while living and kitchen areas are situated on the top floor, above the commercial units
The architects chose the unusual internal arrangement – with commercial units sandwiched between residential on the top and lower levels – to ensure a healthier and more productive live/work environment
INFORMATION
For more information, visit Edgley Design's website (opens in new tab)
Photography: Jack Hobhouse