Pump up the volume: Golden Goose launches Space-Star sneaker
Revel in your personal space with the launch of the Venetian sneaker brand's cushion-sole Space-Star sneaker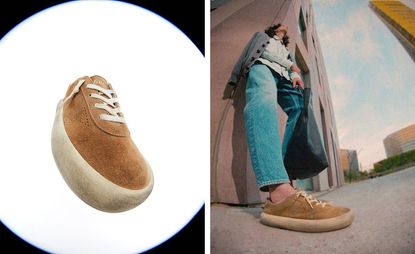 (Image credit: press)
Golden Goose sneakers are idiosyncratic in their style – intentionally weathered, star motif-emblazoned and subtly vintage in their silhouette – so it's unsurprising that the Venetian trainer stalwart, founded over two decades ago husband-and-wife duo Alessandro Gallo and Francesca Rinaldo, only releases one new design each year.
Brand new on the roster is a sole-ful symbol of the personal space and mindfulness bubble we've all valued and cultivated since the start of the Covid-19 pandemic, whether indulging in self-care at home or taking in a hit of outside air. The Golden Goose Space-Star, an exaggerated, avant-garde design, riffs on the brand's signature sneaker shape, but features a pumped-up, curving, extra-cushioned sole, sure to give you an added boost.
Speak volumes with Golden Goose Space-Star sneaker
The futuristic and bulbous shoe sole was a standout on the S/S 2022 catwalks, thanks to fashion brands such as Versace, Balenciaga and Givenchy. The Golden Goose Space-Star offers a squidgy extra layer for the wearer, a metaphorical cocoon of self-care, featuring not just that whopping sole but a memory foam-padded insole. For an additional soupçon of snuggle, the style boasts a soft shearling lining too.
There are also plenty of options to allow for the wearer's personal choice. The Golden Goose Space-Star is available in a multitude of materials, spanning tactile suede, nylon, striking leopard-print pony skin, and shimmering glitter finish. The upper of the Space-Star is punctuated with the brand's star motif and treated with its signature distressing techniques, ensuring a weathered and well-aged edge.
For sneaker fans that favour a slip-on style, the shoe is also available in a sabot version – part-slipper, part-sneaker, it's a sublime option for everyday wear, seeing you from the home into day-to-day outdoor chores.
Keen to step-up your self-care cocoon? We suggest stepping out in Golden Goose's cushioning Space-Star sneakers now. We're feeling lighter already.
INFORMATION