True blue: Raleigh Denim on their personal approach to denim and design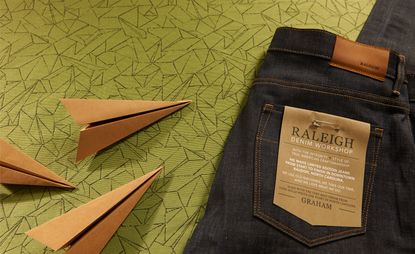 (Image credit: Raleigh Denim)
Everything about Raleigh Demin is personal, right down to the husband and wife team behind the brand, Sarah Yarborough and Victor Lytvinenko. The couple started indie label Raleigh Denim Workshop in Raleigh, North Carolina, back in 2007 and have since then kept their commitment to keeping their production process intimate – and it shows.

Each pair of jeans they produce is handmade – using 'non-automated jeansmiths' – on vintage machines. Each pair is autographed by its maker. Adjacent to the downtown Raleigh workshop, The Curatory shop stocks collectibles like jewellery and homegoods that capture local flavour.

Their personal approach extends to their designs, too. Raleigh's heavenly collaboration with Bernhardt Design, for example, elaborated on four celestial motifs significant to the couple. 'We based our wedding invitation on stars,' said Yarborough. As part of the collaboration, the 5,000 paper planes that famously adorn the ceiling of Raleigh's shop migrated their way to the colourful textiles as an interlocking pattern.

Most recently, the couple sold one-off versions of their products out of a pop-up at Miami's Raleigh Hotel during Art Basel. Alongside the copper racks displaying their women and menswear lines was an Union Special sewing machine reassembled by Lytvinenko in homage to America's oldest remaining machine manufacturer.

Despite their commitment to the Tar Heel state, Northerners need not despair – the denim designers opened an NYC flagship in 2012 with a host of paper planes of its own.
INFORMATION
For more information, please visit the Raleigh Denim Workshop website (opens in new tab)