Clowning around: Marcel Wanders launches fantastical circus kitchenware for Alessi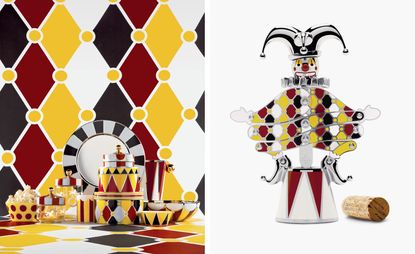 (Image credit: Alessi)
Very rarely are we transfixed by a kitchenware collection. The newest venture by Dutch designer Marcel Wanders for Alessi, however, left us hypnotised with its theatrical theme.

Wanders is of course known for putting on a show with his works, and this time he chose the magic and trickery of the big top as inspiration. Channeling the maximalist power of pattern he brings to Moooi, the whimsical collection consists of 29 objects in the tableware range, plus five limited-edition Officina Alessi ornamental pieces.

Described by Wanders himself as a 'one-of-a-kind spectacle', the striking stainless tableware is dressed in adventurous patterns, often diamonds or stripes in vivid red, yellow and blacks. 'We explored how we could merge colour and stainless steel in fun, unexpected and unique ways,' says Wanders. 'With the concept of the circus, and the surprising display it's known for, we were able to bring colourful delight and energy to what Alessi has built its reputation upon.'

For the five limited editions, Wanders has created different archetypal characters from the circus to create bespoke kitchen performances. These include the muscle-clad 'Strongman' (a nutcracker), the baby elephant 'Ballerina' (a musical box), the laughing 'Jester' (corkscrew), the classical 'Ringleader' (a call bell), and if you are brave enough, the clown 'Candyman' (sweets dispenser). It's hard not to appreciate Wander's wild imagination through the fantastical nature of the pieces, which have been designed as lifelong collectables. 'Our collection is unequivocally designed to bring smiles and delight,' continues Gabriele Chiave, creative director at Marcel Wanders.

Delving into a new playful and energetic direction for Alessi, the venture took five years to master – just like any circus act, practice makes perfect.
INFORMATION
For more information, visit the Alessi website